The Journal-World's Web site, LJWorld.com, picked up an international honor Thursday as it received the EPpy Award for the Best Internet News Service.
The 2005 EPpy Awards were presented Thursday by Editor & Publisher and Mediaweek magazines at the Interactive Media Conference and Trade Show in New Orleans.
LJWorld.com also won for best news site in 2003.
"Every time we have been lucky enough to win one of these types of awards, I'm more than a little proud that it's happening in little Lawrence, Kan.," said Rob Curley, director of new media/convergence for The World Company, which owns the Journal-World and 6News.
Curley was in New Orleans to attend the conference.
"These awards keep coming because of the hard work and nerdy smarts of not only the behind-the-scenes people working on our Web sites, but because of the journalists who have worked so hard to embrace new ways of telling stories," Curley said.
The J-W's EPpy was for Best Internet News Service with under 1 million unique monthly readers. The J-W site competed against many major media Web sites. Other finalists in that category were Internet sites from the Savannah (Ga.) Morning News and the San Antonio Express-News.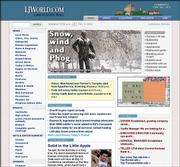 The World Company also won an EPpy for its real estate Web site, SteamboatHomefinder.com, based in Steamboat Springs, Colo. That site was built in part by World Company staffers based in Lawrence.
That EPpy was for Best Internet Shopping Service with under 1 million unique monthly readers. The Steamboat site beat the PalmBeachPost.com's Shopping Channel and phillyBurbs.com.
Along with The World Company, only three other media companies received more than one EPpy: MSNBC.com, the Orlando Sentinel and Slate.com.
Other media companies receiving EPpys included The Washington Post and The New York Times, as well as other media companies from around the world.
The World Company's lawrence.com site was a finalist in two categories: for Best Internet Entertainment Service under 1 million and Best Overall Design of an Internet Service under 1 million.
The judging was conducted by senior executives representing all the major media and with a special interest in Web services.
"All of us associated with The World Company are extremely proud of the World Online team and Rob Curley for this latest recognition of their excellence," said Ralph Gage, The World Company's Chief Operating Officer. "We're pleased to be able to compete successfully with the big boys in the Internet arena.
"The commitment of our owners and the vital contributions from the 6News and Journal-World news staffs, combined with the skill sets, news-gathering efforts and innovations of our World Online staff, quite deservedly have earned this 'best news service' honor."
Earlier this year, the Newspaper Association of America awarded World Company Web sites with four Digital Edge Awards, or "Edgies."
At that time, LJWorld.com won "Best Overall News Site," lawrence.com won "Best Home Page User Experience," and LJWorld.com/sports won "Best Sports Site" for its sports sections on LJWorld.com and KUSports.com.
SteamboatHomefinder.com also won an NAA Edgie for "Best Real Estate Site."
Copyright 2018 The Lawrence Journal-World. All rights reserved. This material may not be published, broadcast, rewritten or redistributed. We strive to uphold our values for every story published.