COLUMBUS, OHIO — President Bush said Thursday that Congress must extend the government's surveillance and law enforcement powers to track down potential terrorists, while crediting the USA Patriot Act with helping to thwart potential attacks.
In a speech at the Ohio State Highway Patrol Academy, Bush said authorities needed the special powers to conduct secret searches, detain witnesses and track people deemed threats to the United States. Critics, including some conservatives concerned that the law tramples on the rights of individuals, want the act scaled back.
Bush said the new powers had allowed authorities to charge more than 400 people in terrorism investigations since the Sept. 11, 2001, attacks, and convict more than half. Unless Congress acts, some provisions are set to expire at the end of the year.
"The Patriot Act has accomplished exactly what it was designed to do: It has protected American liberty and saved American lives," Bush told cadets and members of the state patrol. "For the sake of our national security, Congress must not rebuild a wall between law enforcement and intelligence."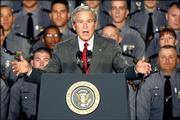 The law was quickly enacted after the attacks on New York and Washington. But it has provoked an emotional debate about the proper balance between security and personal freedom.
Among the 16 provisions set to expire are sections allowing the use of roving wiretaps on multiple telephones and secret warrants for "tangible items" held by libraries, financial firms and other businesses.
"Letting those provisions expire would leave law enforcement in the dark," Bush said. The USA Patriot Act expanded the power of the FBI and other law enforcement agencies to intercept information and data and share information obtained through foreign and domestic surveillance. Bush and many lawmakers want to make it even easier for the FBI to quickly obtain information in terrorism cases.
Intelligence committee Chairman Pat Roberts, R-Kan., and other senators want to permit the FBI to subpoena records in national security probes without the approval of a judge or grand jury and make it easier for the bureau to get copies of mail.
Copyright 2018 The Lawrence Journal-World. All rights reserved. This material may not be published, broadcast, rewritten or redistributed. We strive to uphold our values for every story published.