Get ready, it's coming.
A water-line replacement project that has slowed traffic on Sixth Street for more than a month is headed to Massachusetts Street next week.
Motorists will be confronted with detours and reduced parking options as construction crews begin to replace a century-old water line in the 600 block of Massachusetts Street. Work is expected to begin next week, perhaps as early as Monday, said Lisa Patterson, communications coordinator for the city.
"We've been talking with the businesses down there to prepare them, so we are hopeful that it will go well," Patterson said.
City crews also will be installing several signs to provide motorists with alternate routes to get to downtown. The project will close the 600 block of Massachusetts Street to southbound traffic. It also will close all the parking on the west side of the block.
Patterson said motorists coming off of Sixth Street would be directed to access Massachusetts Street by taking either New Hampshire or Vermont streets to Seventh Street to connect to Massachusetts.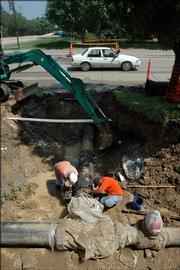 Downtown merchants should be ready for the project, said Maria Martin, director of Downtown Lawrence Inc.
"We have talked about it a lot," Martin said. "There has been a lot of notification from the city, and I think they have done some good things with signage. We think they'll do a lot to guide people to downtown."
Martin, though, said her group had scrapped plans for a "Splash on Mass" event that was designed to be a communitywide celebration at the beginning of the water-line project to show people that downtown was still accessible. She said merchants decided to wait and see how this year's project went before having a special event. Similar water-line projects are scheduled for the 700, 800, 900, 1000 and 1100 blocks of Massachusetts Street in 2006 and 2007.
None of the work on Massachusetts Street will begin until all the work on Sixth Street is completed. That portion of the project is still on schedule, Patterson said. The crews were given 45 working days to complete the Sixth Street portion of the project, and as of Monday still had 15 days left on their contract, Patterson said. For the first time, city commissioners required the crews to work on Saturdays in an effort to speed up the project. Crews will have 35 working days to complete the Massachusetts Street project, and will be required to work on Saturdays.
Business representatives in the 600 block of Massachusetts Street on Monday said they were aware that the project was heading their way. Jamie McCaules, a crew leader with Cold Stone Creamery, 647 Mass., said the project should be bearable as long as the city does a good job of communicating with the businesses.
McCaules said the loss of parking spaces shouldn't be too bad because parking would still be available across the street and in the 700 block of Massachusetts Street. The sidewalks on both sides of the street will remain open.
After work on Massachusetts is completed, crews will replace a water line on Seventh Street from Massachusetts Street to New Hampshire Street. The entire project is expected to be completed in August.
Copyright 2018 The Lawrence Journal-World. All rights reserved. This material may not be published, broadcast, rewritten or redistributed. We strive to uphold our values for every story published.