A water line break left parts of downtown Lawrence without water for about three hours this morning.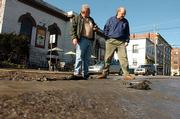 Crews from the city's Water Utility Department worked to pinpoint location of the leak, which was first noticed around 8:30 a.m. on Seventh Street between Massachusetts and New Hampshire streets. Water was restored shortly before 11:30 a.m.
Bob Skinner, field operations superintendent for the Water Department, said the 700 block of Massachusetts and Seventh between Massachusetts and New Hampshire were without water.
Crews were attempting to find the leak in a line originally installed in 1886 and scheduled for replacement in August, according to Skinner.
"Leaks are not predictable," Skinner said earlier. "They can happen anytime."
Copyright 2018 The Lawrence Journal-World. All rights reserved. This material may not be published, broadcast, rewritten or redistributed. We strive to uphold our values for every story published.