On Thursday afternoon, the former Phi Kappa Theta fraternity house near Kansas University sat in a mangled disarray of broken glass and graffiti.
Trash lined the hallways and moldy dishes sat in bathroom sinks. Upstairs, a plastic storage unit appeared to have been used as a urinal, and in one bedroom, two large swastikas had been spray painted on the wall. On a fire escape door, the spray paint read "Phi Kappa Theta supports troops; Tau Kappa Epsilon supports Hitler."
Phi Kappa Theta recently was expelled from campus after police seized 16 kegs of beer at an illegal party at the house at 1111 W. 11th St. The fraternity's lease ended late last month, and when the new occupants prepared to move in, they discovered the home was trashed.
"'College boys gone wild' is what it is," said Larry Northrop, a local Realtor who serves on the alumni board for Tau Kappa Epsilon fraternity, which began leasing the home Wednesday.
"They ripped down the drop ceiling in all the hallways, cut the television cables, spray-painted all the walls. : We've got broken shower heads, broken faucets, a significant amount of sheet rock that's been destroyed."
Northrop said his fraternity's members have been busy cleaning the mess inside the home as they prepare for new-member rush. He estimated damage at $50,000.
The vandalism is an ongoing problem.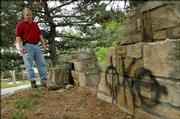 On Wednesday morning, Tau Kappa Epsilon put up a new $3,300 sign outside the home that featured the fraternity's crest and Greek letters. About 3 a.m. Thursday, someone spray painted the Greek letters for Phi Kappa Theta on the sign and partially knocked it off its stone supports, Northrop said.
Kevin Lampe, spokesman for the Phi Kappa Theta national organization, said that the fraternity's local advisory board would take responsibility for the actions of the former Phi Kappa Theta members, should it be proved that they were responsible for the damage.
"The (fraternity's) alumni association at Kansas will do everything it can to repair the property, the damage that was inflicted by its lessees, to bring it up to the landlord's specifications," Lampe said.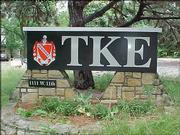 On May 13, police arrested two former residents after security officers discovered them inside the home, according to a report. They were suspected of causing $50 in damage to the ceiling and walls.
But as of Thursday, no police reports had been filed about the extensive damage inside the home, which Northrop said likely happened between May 18 and last Saturday.
The Phi Kappa Theta national office revoked the charter of the Kansas chapter at its board meeting in April.
"We made a pretty strong decision earlier this semester that their behavior was not in keeping with the fraternity, and they've continued to disappoint us," Lampe said.
Copyright 2018 The Lawrence Journal-World. All rights reserved. This material may not be published, broadcast, rewritten or redistributed. We strive to uphold our values for every story published.