For the 11th year, "Cairo on the Kaw" will present a smorgasbord of Middle Eastern dances. In keeping with the event's tradition, director Jo Anne Zingo-Hargis has drawn up an eclectic program.
In about 90 minutes, 16 performers will visit about 10 different cultures and styles ranging from modern, classical and folkloric styles from Egypt and Turkey to modern Lebanese and Indian dances. Also in line with the past is the inclusion of several rock 'n' roll numbers with more interpretive choreography.
"(The audience) will be surprised by the variety of what they will see," Zingo-Hargis says. "It's not just a belly dancer in a two-piece."
That's quite an understatement given the finale of this year's show.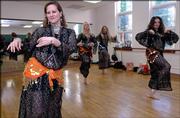 According to Zingo-Hargis, for the final act the dancers will don traditional black cotton garments resembling ones first found in the tomb of King Tutankhamun. Called an "assuit" after its village of origin, the threads of the garment are wrapped in tiny silver plates to form chevrons and symbols in Coptic.
The dresses are worn for the dance called "Raks al assaya," which is the female adaptation of the traditional men's dance routine called "tahtib," named for the stick used in the dance. Shrouded in perhaps centuries of folk lore, the purpose of the dance has only been speculated. Theories range from mock fighting to horse training.
The great irony of "Cairo on the Kaw" is that it is considered uncouth for the women of most of these ethnic groups to perform these dances in public. Because of this, the Lawrence event is in a unique position to spread the folk culture of the Middle East to the Midwestern public.
'Cairo on the Kaw XI'
When: 8 p.m. Saturday and 2 p.m. Sunday Where: Lawrence Community Theatre, 1501 N.H. Tickets: Adults, $7; students and seniors, $5; children 10 and under free Ticket info: 842-3010
But just because something is considered taboo in one culture doesn't mean it shares that status in another. Zingo-Hargis seeks to clear up one misconception that some have about "belly dancing."
"It's all ages; it's not 'adult' entertainment," she says. "Kids just love it; they eat it up. They like the costumes."
Copyright 2018 The Lawrence Journal-World. All rights reserved. This material may not be published, broadcast, rewritten or redistributed. We strive to uphold our values for every story published.