Washington — After mentioning a CIA operative to a reporter, Bush confidant Karl Rove alerted the president's No. 2 security adviser about the interview and said he tried to steer the journalist away from allegations the operative's husband was making about faulty Iraq intelligence.
The July 11, 2003, e-mail between Rove and then-Deputy National Security Adviser Stephen Hadley is the first showing an intelligence official knew Rove had talked to Matthew Cooper just days before the Time magazine reporter divulged CIA officer Valerie Plame's secret identity.
"I didn't take the bait," Rove wrote in an e-mail obtained by The Associated Press, recounting how Cooper tried to question him about whether President Bush had been hurt by the new allegations.
The White House turned the e-mail over to prosecutors, and Rove testified to a grand jury about it last year.
Earlier in the week before the e-mail, Plame's husband, former Ambassador Joseph Wilson, had written a newspaper opinion piece accusing the Bush administration of twisting prewar intelligence, including a "highly doubtful" report that Iraq bought nuclear materials from Niger.
"Matt Cooper called to give me a heads-up that he's got a welfare reform story coming," Rove wrote in the e-mail to Hadley.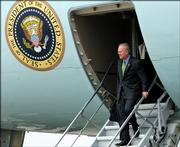 "When he finished his brief heads-up he immediately launched into Niger. Isn't this damaging? Hasn't the president been hurt? I didn't take the bait, but I said if I were him I wouldn't get Time far out in front on this."
Hadley, now Bush's national security adviser, didn't immediately return a call seeking comment Friday. Rove's attorney, Robert Luskin, said his client answered all the questions prosecutors asked during three grand jury appearances, never invoking his Fifth Amendment right against self-incrimination or the president's executive privilege guaranteeing confidential advice from aides.
Rove, Bush's closest adviser, turned over the e-mail as soon as prosecutors opened a criminal investigation into who leaked Plame's covert work for the CIA.
He later told a grand jury the e-mail was consistent with his recollection that his intention in talking with Cooper that Friday in July 2003 wasn't to divulge Plame's identity but to caution Cooper against certain allegations Plame's husband was making, according to legal professionals familiar with Rove's testimony.
They spoke only on condition of anonymity because of the secrecy of the grand jury investigation.
Copyright 2018 The Associated Press. All rights reserved. This material may not be published, broadcast, rewritten or redistributed. We strive to uphold our values for every story published.