Snellville, Ga. — Earl Lazenby had delivered mail for years to the aging brown home with overgrown plants in the yard and a National Rifle Assn. sticker on the front door. The home's owner was always friendly, sometimes chatting with Lazenby at the grocery store in this Atlanta suburb.
But what Lazenby didn't know was that William Crutchfield was deep in debt and looking for a way out. Authorities say Crutchfield apparently watched with envy as Olympic bomber Eric Rudolph was headed to prison for life and aspired to the same fate - allowing him to live off the government while behind bars.
So he allegedly hatched a twisted plan: Kill a federal employee.
Two weeks ago, Crutchfield walked down his driveway carrying a .380-caliber pistol and greeted his mail carrier at the curb. He then opened fire on Lazenby, drove to the police station in his Chevrolet Cavalier and told the secretary, "I just shot the letter carrier."
"He took his mail and then said, 'Hello.' And then just started shooting," Lazenby said from his hospital bed Tuesday. "He just casually got in his car and drove away."
Lazenby was shot seven times, once in the arm and six times in the abdomen. A neighbor heard shots, came outside and called 911 as the 52-year-old grandfather lay in the grass of a nearby lawn thinking he might die.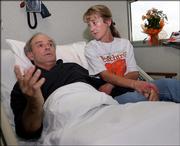 When Lazenby came out of surgery, he learned that he had suffered extensive damage - 29 holes in his colon and intestines, shattered bones in his arm. He would live, but he would never be able to digest food or produce insulin by himself.
Meanwhile, Crutchfield was telling police his startling motive. It had nothing to do with Lazenby, but instead was a way out of medical debt, he told police.
On TV, he followed the case of Rudolph - who pleaded guilty this spring in a deal that will send him to prison for life - and wanted the same fate.
"He was saying that he wanted to be cared for by the federal government, that he was in poor health and wanted to be taken care of," said Atlanta postal inspector Tracey Jefferson.
Crutchfield, a 60-year-old electrical contractor who lived alone, claimed $90,000 in medical debts for an unspecified ailment and feared losing his home, another postal inspector testified at his preliminary hearing.
"He felt that it was better to be in federal prison than out on the street," postal inspector Jessica Wagner said.
The Postal Inspection Service is the lead investigating agency in the case. Because the victim was a postal carrier, that agency has jurisdiction. Gwinnett County police are referring calls to postal officials.
At Crutchfield's first court appearance, he asked twice to plead guilty before even being assigned a public defender. "I'd like to get to where I'm going and start doing my time," he told the judge.
Lazenby's wife, Colleen Lazenby, said survivalist gear was found in Crutchfield's home and that he apparently admired Rudolph.
"He saw that Eric Rudolph was being well taken care of after committing a federal crime, so he thought he'd just go ahead and commit one, and he'd be taken care of, with three meals a day and shelter," she said.
The explanation makes no sense to the Lazenbys.
"If all he wanted to do was commit a federal crime, all he had to do was walk into a bank with an empty gun and point it at them and say, 'Give me your money.' And that's your federal crime, and no one gets hurt," Lazenby said. "Instead of trying to kill the mailman."
Copyright 2018 The Associated Press. All rights reserved. This material may not be published, broadcast, rewritten or redistributed. We strive to uphold our values for every story published.