Bentonia, Miss. — Two freight trains collided and partially derailed early Sunday, killing at least one crew member and leaving rescue crews searching for three others presumed dead in the wreckage.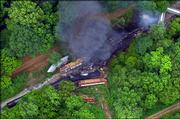 A fire that followed the crash hampered the search efforts, Yazoo County coroner Ricky Shivers said.
The collision northeast of Bentonia in west-central Mississippi involved two Canadian National Railroad freight trains.
It wasn't immediately clear how the two trains ended up on a collision course. CN spokeswoman Karen Phillips said the cause of the crash was under investigation. It happened hours before rains from Hurricane Dennis reached the area.
Dozens of homes in the area near Little Yazoo were temporarily evacuated after the collision. One of the train cars leaked vegetable oil and caught fire, but the flames were extinguished, said Amy Carruth, spokeswoman with the Mississippi Emergency Management Agency.
Another head-on train crash on June 28 injured five crew members when two Kansas City Southern freight trains collided on a west Jackson track. The cause of that crash remains under investigation.
The northbound train in Sunday's crash had 137 cars and two locomotives, and the southbound train had 107 cars and four locomotives, Phillips said.
Copyright 2018 The Associated Press. All rights reserved. This material may not be published, broadcast, rewritten or redistributed. We strive to uphold our values for every story published.