The Jayhawks vs. Tigers rivalry has found a new venue.
When the University of Missouri Alumni Assn. announced its new membership drive this week, it set a simple goal: To top the Kansas University Alumni Association's membership numbers.
After years of simply pleading for new members, with moderate results, the Missouri group decided it needed to hit a nerve with the Tiger faithful.
"There's just something about KU that lights a fire under MU alumni," said David Roloff, the association's director of membership and marketing.
The MU Alumni Assn. just finished one membership drive, which netted 2,285 new members. There are now 37,500 members in the group.
Now, the sights are set on taking down KU's membership total of 41,000.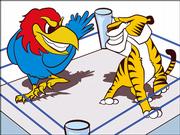 Needless to say, the goal has ruffled a few Jayhawk feathers on Mount Oread.
"There's no end to the competitive nature of the two schools, to say the least," said Kevin Corbett, president of the KU Alumni Association. "I welcome the competition."
Corbett, who started in the job in October, said the KU Alumni Association already is looking for ways to increase its membership. This month alone, there are 20 alumni events scheduled across the country, many with the idea of boosting membership.
Though he'd like to get more Jayhawks involved, Corbett said KU should be proud it is setting the pace for Missouri.
"It's good to be king," he said. "I wouldn't blame them for using Kansas as the bar to reach to."
Copyright 2017 The Lawrence Journal-World. All rights reserved. This material may not be published, broadcast, rewritten or redistributed. We strive to uphold our values for every story published.