Salina — Efforts to expose students to stronger criticisms of evolution were rebuffed Thursday by a committee rewriting the state's science education standards.
The move potentially sets up a confrontation with the conservative-controlled State Board of Education.
The committee, appointed by the state board, is revising the state's standards for science education, which currently describe evolution as a key concept students should learn.
But while reviewing the committee's initial work in December, some conservative members of the state board questioned whether the committee had properly considered views about teaching creationism or intelligent design alongside evolution.
The committee reconvened Thursday, hearing from some members who said they want to ensure that students learn to analyze scientific theories critically. They argued the standards the committee is drafting would discourage such analysis.
A majority of committee members disagreed, with some arguing the proposals are an attack on evolution in favor of creationism or intelligent design.
Intelligent design is a form of creationism that argues the Earth was created by a series of events caused by some intelligent force, not random chance. Evolution, on the other hand, says that species change in response to environmental and genetic factors over the course of many generations.
"Hidden in back behind all of this, is their belief there's been some supernatural creation," said committee member Jack Krebs, a high school math teacher from Oskaloosa. "All of these ideas have not made it in the marketplace of ideas, so now they're seeking a government handout."
But Rick Reeser, a retired science teacher from St. Francis, said many Americans don't accept evolution as fact.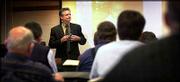 "I personally think they should be recognized and honored," he said. "We should open the door to allow them to be free to criticize Darwinian evolution."
Kansas law requires the academic standards, which are used to develop statewide tests for students, to be updated periodically, with the state board making the final decision about any changes. The board is expected to review the committee's work in April and the new standards would take effect for tests given to fourth-, seventh- and 10th-graders in 2008.
In 1999, the state board approved standards that removed most references to evolution, leading to international criticism. Two years later, after an election, a new board majority approved the current evolution-friendly standards. The board's makeup changed again in January, when a 6-to-4 majority of conservatives took control.
One proposal rejected Thursday would have added a statement that said although science proposes theories, the causes of some events, such as the origin of the universe or life, are unknown.
Another proposed change would have added a statement introducing the standards: "According to many scientists, a core claim of evolutionary theory is that the apparent design of living systems is an illusion. Other scientists disagree."
The committee agreed to only one change in its draft standards, striking a sentence in the introduction that says if students ask about a topic "outside the domain of science," the teacher should encourage them to talk to family members and others outside of class.
Public hearings scheduled on proposed state science standards, all beginning at 7 p.m.:¢ Tuesday, Kansas City, Kan., auditorium, Schlagle High School, 2214 N. 59th St.¢ Feb. 8, Topeka, board room, Department of Education offices, 120 S.E. 10th Ave.¢ Feb. 10, Derby, cafeteria, Derby Middle School, 801 E. Madison Ave.¢ Feb. 15, Hays, lecture hall, Hays High School, 2300 E. 13th St.Source: The Associated Press
Several other states have wrestled in recent years with teaching evolution.
In Georgia, a suburban Atlanta school district plans to challenge a federal judge's order to remove stickers in science textbooks that call evolution "a theory, not a fact." In Pennsylvania, eight families have filed a federal lawsuit against the Dover School District over its requirement that students hear about intelligent design.
Although the committee rejected most changes, John Calvert, who helped found the Intelligent Design Network, which has office in Kansas, Minnesota and New Mexico, said he was pleased with the discussion.
"What you're seeing today is evidence of scientific controversy," he said.
But, Krebs said, "Within the scientific community, these are not controversies. These controversies are cultural."
Copyright 2018 The Associated Press. All rights reserved. This material may not be published, broadcast, rewritten or redistributed. We strive to uphold our values for every story published.