Don Schawang says he probably would earn more if he were teaching theater to college students as he once planned.
But Schawang, who earned a doctorate in theater at Kansas University, says he loves teaching at Bishop Seabury Academy instead.
"I know many people who have high-salary jobs who are dreadfully unhappy," he said. "I love what I do."
Schawang has been selected as a Teacher of the Year by the Kansas Association of Independent and Religious Schools, in its independent schools division.
He and selected teachers from the association's other divisions will be honored at a February ceremony in Topeka.
Schawang leads the Episcopal school's fine arts program and teaches English and theater. He formerly taught Western civilization and theater at KU.
"He picks a lot of hard plays for us to do because he knows we are capable of hard stuff," said Bishop Seabury senior Abby Wake.
Senior Gabe Murphy said Schawang's theater instruction had given him an edge over other students in theater camps.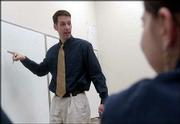 He said Schawang taught him to act with his body and to project his voice. Many of the other students in theater camps had to rely on microphones a lot and were awkward, Murphy said.
Schawang started at Bishop Seabury in 2000-2001 while finishing his doctorate. But then he ditched his plans of finding a job teaching college theater and stayed at Bishop Seabury, 4120 Clinton Parkway.
"It's the most valuable teaching I've ever done," he said. "I felt content here in a way I never felt (teaching) in college.
Copyright 2018 The Lawrence Journal-World. All rights reserved. This material may not be published, broadcast, rewritten or redistributed. We strive to uphold our values for every story published.