When Terrence Roberts talks about the hatred and torment he encountered as one of nine students chosen in 1957 to integrate all-white Central High School in Little Rock, Ark., someone usually asks how long it took for conditions to improve.
Roberts, after all, went on to earn a doctorate in psychology, so it's logical to assume he got a good high school education.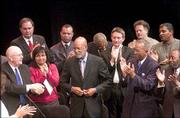 The taunting must have subsided, right?
Wrong.
"It went on all year," Roberts said, addressing about 550 people who gathered Monday at the Lied Center for the city's 20th annual observation of Martin Luther King Jr. Day.
"Each of us had a full-time tormentor assigned to us," Roberts said, noting that wherever he went, someone was prepared to call him names, hit him or push him down stairs.
Gym class, he said, was the worst because every student was required to take a shower, and for him that meant broken glass on the shower floor, scalding hot water and locker room assaults.
A year later, Gov. Orval Faubus ordered Little Rock's public schools closed for a year, declaring integration unworkable.
White students attended private schools. Black students, Roberts said, had no choice but to wait for the courts to overturn Faubus' decree.
Rather than wait, Roberts' family moved to Los Angeles. "I finished high school there," he said. "I had younger siblings, and they would have bumped into all that craziness. It made sense to leave. Essentially, we were uprooted."
More needed?
While attending high school in Little Rock, Roberts and his teenage cohorts -- soon known as the "Little Rock Nine" -- met with King and his lieutenants on the use of nonviolence.
"It was very interesting because it was very early in his ministry. He was just sort of figuring it out," said Roberts, who now owns a management consulting firm in Los Angeles.
Since King's assassination in 1968, Roberts said, much of the civil rights leader's dream for racial equality has been realized. Still, much remains to be done.
Roberts chided universities for recruiting students for their athletic abilities rather than their academic accomplishments; he marveled at recent criticism of affirmative action when it's clear that "America was founded on the basic principle of affirmative action for white males."
He wondered aloud how King would have reacted to the United States, a nation built on a premise of liberty and justice for all, invading Iraq.
Low attendance
Other speakers shared Roberts' sentiments: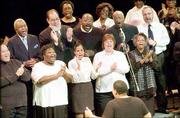 Leonard Ortiz, an adjunct history professor at Kansas University and a Lawrence school board member, cited data showing that for every 1,200 whites with doctoral degrees there are 12 Latinos with doctoral degrees.
Mayor Mike Rundle said he was still waiting for Lawrence to elect a black mayor.
Venida Chenault, vice president of academic affairs at Haskell Indian Nations University, noted that black and tribal colleges are woefully underfunded.
The two-hour event's loudest and longest segments of applause were for performances by Central Junior High School's Excalibur Choir and the Martin Luther King community children and adult choirs.
Several speakers raised concerns about the event's sparse attendance. The Lied Center was barely one-third full.
"There aren't enough people here today," said Ron Schneider, a Lawrence attorney speaking on behalf of the city's Jewish community.
Equally disappointed, the Rev. William Dulin of Calvary Church of God in Christ added: "If we can fill Allen Fieldhouse to watch somebody throw a ball through a hoop, then surely we ought to be able to fill the Lied Center."
Copyright 2018 The Lawrence Journal-World. All rights reserved. This material may not be published, broadcast, rewritten or redistributed. We strive to uphold our values for every story published.