Ani DiFranco is more than today's single biggest DIY singer-songwriter. Ani is an icon. Her lyrics are often inspirational and empowering, words you can memorize and take home with you, pithy snippets of wisdom that you can apply to life. She's used her poetry to inspire women and yellow dogs for more than 15 years now -- but not so much Wednesday night.
Evidence of Ani's influence was the hundred fans wrapped around the corner of Seventh and Massachusetts streets an hour before Liberty Hall's doors were set to open. Evidence of her ethic stood in line, too, in the guise of purveyors of vegetarian literature, "Meat Is Murder" hand stamps, and homespun art paying homage to Ani. Only one scalper was to be found. Those who wanted to be here were already here.
A few years ago, DiFranco effectively snubbed her fans by going (gasp) hetero and getting (gasp, gasp) married to a (gasp, gasp, gasp) male. And last night -- though she was charismatic and entertaining as ever -- she managed to snub her fans again and again.
First, by banning cameras and recording devices (I heard someone in line say, "If Ani sees a flash she'll walk offstage.) This smacks of profiteering, not gratitude to her fans.
She snubbed her audience, too, by failing to tell that arm-pumping dude down front to get off his girlfriend's shoulders and stand like the rest of the crowd so people behind him could see.
Snub No. 3 came via literally laughing off requested non-new-album tunes ("Oh wow ... yeah, right!"). Once she did play an older tune -- a straight-ahead version of "Gravel" -- the crowd absolutely erupted in sing-along for the first time. Although that moment came near the end of the night, it seemed like the show was just beginning.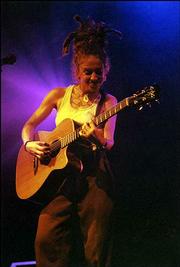 She later indulged the crowd with a couple more "old" pieces, including the spoken word "Coming up." Though many a fan's allegiance was cast in DiFranco's politico-firebranding, this pre-Dubya-era poem was the lone trace of her dissenting voice last night. And even that vigorous call for action was rendered toothless by her deflated delivery. Worse, the whole show ended with a "commercial sell" in the form of a projected Righteous Babe logo on stage immediately after her words:
"Whoever's in charge up there had better take the elevator down / and put more than change in our cup / or else we / are coming / up."
Copyright 2018 The Lawrence Journal-World. All rights reserved. This material may not be published, broadcast, rewritten or redistributed. We strive to uphold our values for every story published.