A controversial proposal will come before the Lawrence school board tonight.
The board faces scenarios that would move more than 40 students out of Hillcrest School next fall to reduce crowding.
But many Hillcrest School parents and teachers say they don't want their school's boundaries to change next year.
"We're very concerned about it," said Hillcrest parent Lilly Rosales de Garcia. "I don't think it's fair for kids."
She and other parents say it would take too many native English speakers out of the school, which is the district's only elementary serving ESL -- English as a second language -- students.
Hillcrest parents and teachers say they can live with the crowding for another year, until Cordley School starts taking ESL students in fall 2006.
School board members in November asked the district's boundary committee to find ways to move at least 100 students out of Deerfield and about 40 out of Hillcrest. Both schools are crowded.
A boundary committee representative is scheduled to give recommendations to the school board tonight.
Boundary changes must go through two readings by the board to be adopted, so the soonest the school board could officially adopt the changes is March 14.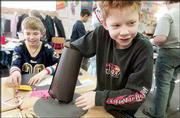 Board members could adopt the changes on first reading tonight. Public hearings would follow, and the board members would have to approve the changes a second time to implement them.
It's still uncertain the direction board members will take. Only two could be reached Friday for comment. Austin Turney and Rich Minder declined comment on whether they supported or opposed changing Hillcrest boundaries.
"I think everybody would acknowledge that it's pretty crowded over there," Minder said of Hillcrest.
The other five board members could not be reached.
The boundary committee's recommendations call for moving 97 Deerfield students to Quail Run School and 44 Hillcrest students to Cordley and Sunset Hill schools. The changes would take effect for the coming school year, 2005-2006.
Hillcrest School can hold 366 to 408 students. The school is predicted to have about 430 students next year, if the school board doesn't change the boundaries.
Deerfield's capacity is 540 to 600 children. The school district predicts nearly 590 children will attend there in the fall if the school board doesn't change the boundaries.
Hillcrest School could hold all 430 students next year if workers reconfigured one wing of the school and replaced an existing portable with a larger one, said Nils Gore, an assistant professor of architecture at Kansas University.
And teachers at the school Friday said they would rather be crowded than move children out before Cordley starts taking ESL students.
"I know we're crowded," fourth-grade teacher Kristi Carlsen Jewell said. "But we can manage another year. I'd rather do that than send away families who've been at Hillcrest a long time."
Copyright 2018 The Lawrence Journal-World. All rights reserved. This material may not be published, broadcast, rewritten or redistributed. We strive to uphold our values for every story published.