Camp Liberty, Iraq — Louisiana soldiers donned purple, green and gold and climbed onto Army trucks transformed into floats for an early Mardi Gras celebration Sunday, parading through this base west of Baghdad and pelting troops with colorful beads, coins and candies in true New Orleans style.
Their parade ended at the mess hall, where they danced to Zydeco music and were served chicken and sausage gumbo, red beans and rice, and their first cold beer in four months. The beer, donated by Anheuser-Busch Cos., was for Super Bowl parties, but commanders decided to combine the celebrations.
The climax of the New Orleans Mardi Gras celebrations falls on the Tuesday before Ash Wednesday, the beginning of Lent. Mardi Gras in French means "Fat Tuesday." Many soldiers in Iraq get Sundays off, if their duties allow, so it made sense to hold the parade early.
Uniform regulations were suspended for a few hours as soldiers donned jester caps, feathered masks, capes and lots and lots of beads.
"You can't have all war and no play. You have to live for another day," Col. John Angelloz, the deputy commander of the 256th Brigade, rhymed in his Louisiana accent.
As the parade of 10 military vehicles, covered in streamers and posters, snaked its way through the base, stunned soldiers from other units couldn't help but smile as they were showered in bright, shiny beads, plastic cups and candy.
Spc. Selena Lassien, 24, of Vinton, La., pulled a costume over her desert camouflage uniform, donned a purple mask and carried a parasol for the parade.
"We're having a good time, just like we would at home," Lassien said. "We can let our hair down and have some fun."
She said it was almost better than parades back home, because it has more meaning for the soldiers in Iraq.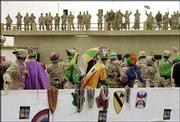 Krewe of Bonaparte, which organizes one of the main parades in Lafayette, La., collected or donated more than 300 boxes of beads, masks and decorations after one the soldiers' relatives, Kim Clay, made an appeal on a Louisiana radio station, said Command Sgt. Major Homer Stelly.
Clay's employer, High Pressure Integrity Inc. of Broussard, La., agreed to pay the postage to mail it all to Iraq.
But from the costumes on hand Sunday, it was clear that many of the soldiers had brought their Mardi Gras best with them when they were deployed.
"You can take the brigade out of Louisiana," said Maj. John-Michael Wells, 36, of New Orleans. "But you can't take Louisiana out of the brigade."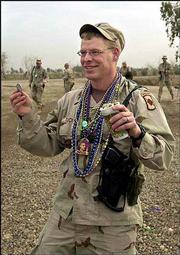 Copyright 2018 The Associated Press. All rights reserved. This material may not be published, broadcast, rewritten or redistributed. We strive to uphold our values for every story published.