Looking at the colorful chairs and tables and more than 5,000 new books, Stacey Van Houten said the new library at East Heights Early Childhood Family Center finally had what it needed.
"When I came here, this was a big-kid library," the librarian said. "We needed to take it down a step for 3-year-olds and 4-year-olds."
The new library was dedicated Friday and named for Ethel and Raymond Rice, whose foundation paid for the $59,000 in new materials.
Lawrence public schools' East Heights offers preschool to children from at-risk or low-income families. It also offers a parenting and literacy program for adults.
The center previously had a library of easy-reading books from the closed East Heights, Centennial and Riverside schools. But the library needed books for preschoolers, Van Houten said.
About 50 people toured the library Friday after a ceremony, looking through the colorful room that held books such as "Some Kids Wear Leg Braces," "A Family from Vietnam" and "Last Night I Dreamed a Circus."
The library now has books in six languages besides English: Spanish, Chinese, Korean, Vietnamese, French and Arabic.
"Isn't this a great project here?" said James Paddock, Rice Foundation president.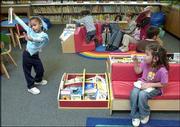 Since 1996, the Rice Foundation has given $289,000 for the school district's early childhood education programs.
The foundation most recently awarded a grant to the Lawrence Schools Foundation for $15,000 to purchase 16 child-size cafeteria tables and benches for East Heights.
Copyright 2018 The Lawrence Journal-World. All rights reserved. This material may not be published, broadcast, rewritten or redistributed. We strive to uphold our values for every story published.