Wellsville — A westbound BNSF Railway train rear-ended a second westbound train Thursday afternoon, derailing 10 cars -- including one that was engulfed in flames -- and injuring one crewman.
An earlier report that a third train was involved in the accident was incorrect, said Steve Forsberg, a spokesman for BNSF. He said an eastbound train was able to stop before hitting the wreckage.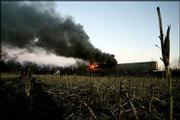 The first train had stopped on the tracks when the second train hit it, Forsberg said. Six cars from the first train and two locomotives and the first two cars of the second train derailed.
Forsberg said the cause of the accident was still being investigated.
The derailment occurred on the railroad's main line, a set of parallel tracks, about 45 miles south of BNSF rail yard in Kansas City, Kan. The tracks run along Interstate 35 at that point, about a mile east of Wellsville.
A crewman on the train that rear-ended the westbound train was taken to an Ottawa hospital but his injuries were minor, Forsberg said.
One of the trains was hauling automobiles; the other was pulling intermodal freight containers. Forsberg said one train was hauling materials that are technically classified as hazardous, such as paint, but there were no chemical tanker cars in any of the trains.
Forsberg said the two locomotives that derailed tipped over onto a second track, so both tracks were closed. He estimated it would be early Friday before at least one track opened.
Copyright 2017 The Associated Press. All rights reserved. This material may not be published, broadcast, rewritten or redistributed. We strive to uphold our values for every story published.