Mustang, Okla. — Fires fueled by dry brush and driven by gusty wind damaged several homes in Oklahoma and Texas on Tuesday. Several firefighters and residents suffered minor injuries, authorities said.
In Oklahoma, the biggest fire burned at least 400 acres in a rural area near the town of Mustang, southwest of Oklahoma City.
Texas Gov. Rick Perry said dozens of fires, mostly in north and central parts of his state, prompted him to deploy firefighters and issue a disaster declaration.
"It's like trying to stop a 30-mph car coming down the street," Texas Deputy Fire Marshal Keith Ebel said. "The wind is the worst enemy right now."
TV station helicopter footage showed at least a half-dozen structures were burned in Mustang, but conditions appeared to improve by late afternoon, when fire crews brought the flames under control.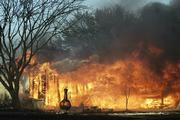 "We've still got some hot spots that we're concerned about," Mustang Police Chief Monte James said.
He said firefighters battled flames at four houses and sheds. One firefighter was being treated at a hospital for smoke inhalation.
After the flames passed, residents emerged and were "watering their yards and standing in their yards," said Harold Percival, who lives about a mile from the Mustang fire.
"What can you do about it?" Pat Hankins, 62, said as he watched his one-story home burn. "You have no control."
Several other grass fires were brought under control in three areas of Oklahoma City. One firefighter suffered heat exhaustion, and a child suffered minor burns on his hands when a shed caught fire.
That blaze was apparently started by children playing with fireworks, Oklahoma City Fire Maj. Brian Stanaland said.
The cause of the Oklahoma blazes was under investigation, but officials said sparks from power lines were one possibility.
Smoke from other grass fires reduced visibility along Interstate 35, forcing officials to close a stretch of the highway in southern Oklahoma near the Texas line.
Copyright 2017 The Associated Press. All rights reserved. This material may not be published, broadcast, rewritten or redistributed. We strive to uphold our values for every story published.