Baghdad, Iraq — Violence increased across Iraq after a lull following the Dec. 15 parliamentary elections, with at least two dozen people, including a U.S. soldier, killed Monday in shootings and bombings mostly targeting the Shiite-dominated security services.
Officials blamed the surge in violence on insurgent efforts to deepen the political turmoil surrounding the contested vote. Preliminary figures - including some returns released Monday from ballots cast early by extriate Iraqis and some voters inside Iraq - have given a big lead to the religious Shiite bloc that controls the current interim government.
The violence came as three opposition groups threatened a wave of protests and civil disobedience if fraud charges are not properly investigated. The warning came from the secular Iraqi National List, led by former Shiite Prime Minister Ayad Allawi, and two Sunni Arab groups.
Iraq's Electoral Commission said Monday that final results for the 275-seat parliament could be released in about a week.
Sunni Arab and secular Shiite factions are demanding that an international body review more than 1,500 complaints, warning they may boycott the new legislature. They also want new elections in some provinces, including Baghdad. The United Nations has rejected an outside review.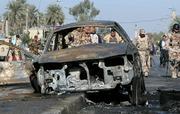 "We will resort to peaceful options, including protests, civil disobedience and a boycott of the political process until our demands are met," Hassan Zaidan al-Lahaibi, of the Sunni-dominated Iraqi Front for National Dialogue, said in neighboring Jordan, where representatives have met in recent days.
On Monday, a suicide car bomber slammed into a police patrol in the capital, leaving three dead, officials said, and a suicide motorcycle bomber rammed into a Shiite funeral ceremony, killing at least two, said Maj. Falah Mohamadawi of the Interior Ministry. A mortar then killed two people in a predominantly Shiite neighborhood.
Four other car bombs killed at least two people, and gunmen killed five officers at a police checkpoint, officials said.
A U.S. soldier serving with Task Force Baghdad was killed when a rocket-propelled grenade hit his vehicle while on patrol in the capital, the military said. The name of the soldier was withheld pending notification of next of kin.
Copyright 2018 The Associated Press. All rights reserved. This material may not be published, broadcast, rewritten or redistributed. We strive to uphold our values for every story published.