Topeka — Children's advocates will try again this legislative session to strengthen seat belt and booster seat laws as Kansas trails most states in seat belt usage.
For child advocates, it's a question of safety and money.
Increased use of seat belts and child-safety seats saves lives and could earn the state more federal highway funds, they say.
"Many parents look to the law for what is safe behavior for their children," said Cindy D'Ercole, a spokeswoman for Kansas Action for Children. "Current Kansas law is misleading."
Kansas' seat belt use rate is 69 percent, which is the sixth-lowest in the nation. The national average is 82 percent.
In Kansas, children under 14 are required to wear seat belts. But Kansans 14 years old and older are only required to wear seat belts if they are riding in the front seat.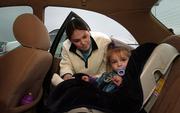 And the enforcement of this law is secondary, which means law enforcement officers must witness a violation of another traffic law before stopping someone for not buckling up.
According to the National Highway Traffic Safety Administration, seat belt use averages 11 percentage points more in states that have primary enforcement laws, which means authorities can issue tickets for not wearing a seat belt without having to cite another violation.
"The new data make clear that the difference between states with high seat belt use and states with low seat belt use is a primary seat belt law," said Phil Haseltine, executive director of the National Safety Council's Air Bag & Seat Belt Safety Campaign.
Haseltine also said it made sense for Kansas to tighten its law because under new transportation legislation signed by President Bush, the state stands to gain $11 million if it passes a primary enforcement seat belt law, or achieves seat belt use of 85 percent or more for two consecutive years.
But efforts at changing the seat belt laws have run into roadblocks in recent years by lawmakers who believe additional restrictions represent too much government intrusion.
State Rep. Gary Hayzlett, R-Lakin, chairman of the House Transportation Committee, isn't supportive of changing the seat belt law.
"We can't continue to legislate to get rid of stupidity," Hayzlett said. He said parents should be responsible for making sure their children are safe.
Proposals that will be before the Legislature when it convenes Jan. 9 would extend primary enforcement of seat belt usage to children ages 14 to 18, and require mandatory use of booster seats for children until they are 8 years old or taller than 57 inches. Currently, booster seats are mandatory for children up to 4 years old.
Copyright 2018 The Lawrence Journal-World. All rights reserved. This material may not be published, broadcast, rewritten or redistributed. We strive to uphold our values for every story published.