The red kettles are running short of green.
W-a-a-a-y short.
"Last year at this time, we'd collected about $89,000," said Wes Dalberg, co-administrator at The Salvation Army, 946 N.H. "This year, we're at $49,000."
In recent years, the local charity's Red Kettle campaigns have raised about $100,000 annually. The campaign ends this afternoon.
Dalberg pinned much of the shortfall on fewer kettles and post-tsunami, post-Katrina, post-Boardwalk-Apartments-fire donor fatigue.
"People have been asked to give and give and give," he said. "We may have reached a saturation point.
"We've also had a harder time finding people who are able to man the kettles on a consistent basis," he added. "Consequently, we have fewer kettles out there than we'd like."
The search proved unusually difficult, Dalberg said, because he and his wife, Susan, arrived at the local Salvation Army on Oct. 1. The campaign began Nov. 11.
"We arrived so late, there wasn't the opportunity to go after things the way we'd liked to have," he said.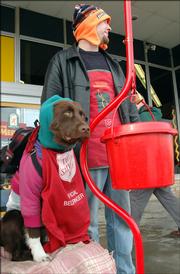 The Dalbergs replaced Rich and Judy Forney, who were transferred to Kansas City.
Asked whether the city's homeless had been approached about manning the kettles, Dalberg replied: "The vast majority of the (bell ringers) we are paying are homeless."
The Red Kettle campaign relies on a mix of paid and volunteer bell ringers.
To offset the shortfall, Dalberg said, The Salvation Army will "have to adjust its budget accordingly. We don't want to curtail any service or activity but being down this much will definitely, at some point, put us in a crunch."
The local program is not underwritten by a regional or national Salvation Army office.
"Our financing is all local," Dalberg said. "There's no money that trickles down from Chicago or New York or London. It's up to us."
The shortfall coincided with the recent announcement that The Salvation Army of Kansas and Western Missouri paid $1.7 million for a 160-acre ranch in northwestern Douglas County. Plans call for turning the ranch into a summer camp for children.
"That's going to be a wonderful place, but it has nothing to do with what's going on with The Salvation Army in Lawrence," said Dick Zinn, a Lawrence attorney and a member of The Salvation Army advisory board.
Kettle locations
¢ Wal-Mart, 3300 Iowa ¢ Community Mercantile, 901 Iowa ¢ Michael's Arts and Crafts, 3106 Iowa ¢ Hy-Vee Food Store, 4000 W. Sixth St. ¢ Dillons, 1740 Mass. ¢ Dillons, 3000 W. Sixth St. ¢ Dillons 1015 W. 23rd St. ¢ Sears, 2727 Iowa
"It would be like saying the Kansas Turnpike is a city street in Lawrence," he said.
Separate from the Red Kettle campaign, The Salvation Army has been raising money to build a $3.5 million facility near 19th Street and Haskell Avenue.
In Lawrence, The Salvation Army is a key provider of services for the city's homeless. The Red Kettle campaign accounts for about 15 percent of its total annual budget.
For the budget of its Christmas operations, the campaign makes up 35 percent of the revenue. The Salvation Army relies on a mail-in campaign for the remaining 65 percent.
Dalberg said results of the mail-in campaign would be announced next week.
"Anyone who wants to help - we'll have kettles out this afternoon or they can come by the office," Dalberg said.
Also, donations may be sent to Salvation Army, Box 1177, Lawrence 66044.
- Staff writer George Diepenbrock contributed to this report.
Copyright 2018 The Lawrence Journal-World. All rights reserved. This material may not be published, broadcast, rewritten or redistributed. We strive to uphold our values for every story published.