PROVIDENCE, R.I. — It's a Charlie Brown Christmas for Rhode Island's official Christmas tree.
The 18-foot Colorado blue spruce lost its needles and died after Statehouse workers dried it with commercial fans and sprayed it with a fire-retardant chemical. The workers mistakenly thought they were following the stringent new fire code enacted after a nightclub blaze in Rhode Island two years ago that killed 100 people.
The pathetic-looking tree was hustled out of the building Wednesday night.
Gov. Donald Carcieri sheepishly explained the tree's demise and suggested the state might get an artificial replacement next year.
"With the new fire code, we're supposed to spray it," he told WPRO-AM. "And apparently the spray killed it."
Not so, said Tom Coffey, executive director of the Fire Safety Code Board of Appeal and Review.
Rhode Island law does designate Christmas trees "flammable vegetation" and regulates their display in public buildings, he said. But nowhere does it call for dousing a tree with fire retardant.
Lawmakers overhauled the fire code after the February 2003 blaze at a West Warwick nightclub. At first, the code banned Christmas trees in public buildings, but tree farmers fought earlier this year to have that section removed, in exchange for safeguards that include posting the tree's watering schedule nearby.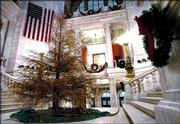 A properly watered tree is not a fire hazard, said Al Bettencourt, executive director of Rhode Island's Farm Bureau, who once tried proving the point on cable TV.
"First we tried to light it with matches - couldn't do it," he said. "Then we took out a 50,000-BTU blowtorch and we turned that onto the tree."
The pine crackled, he said, but never caught fire.
Bettencourt and a team of farmers rushed Thursday to get a replacement tree.
"This one will not be sprayed," promised Steve Kass, a spokesman for the governor.
Copyright 2018 The Associated Press. All rights reserved. This material may not be published, broadcast, rewritten or redistributed. We strive to uphold our values for every story published.