There's no argument. Wilt Chamberlain was -- and remains -- Kansas University's best and best-known basketball player.
Though his last game as a Jayhawk was more than 48 years ago, Chamberlain still holds the school records for most single-game points and rebounds, 52 and 36, respectively.
He holds the season-average records for scoring and rebounding as well.
He was, in today's vernacular, totally awesome.
But Aram Goudsouzian, a history professor at the University of Memphis, said Chamberlain's legacy should not be limited to his basketball prowess.
"He was a national icon," Goudsouzian said. "He was the first real, black celebrity star in college basketball."
Chamberlain died in 1999, less than two years after seeing his number retired during a dramatic half-time ceremony at Allen Fieldhouse. He was 63.
In "Can Basketball Survive Chamberlain? The Kansas Years of Wilt the Stilt," a lengthy article in the latest issue of Kansas State Historical Society's "Kansas History" magazine, Goudsouzian contends that Chamberlain's time in Lawrence "foreshadowed the changing landscapes in ofAmerican sports and race relations."
Though Chamberlain was hardly a civil rights activist, Goudsouzian said, his fame and ego often put him on a collision course with Lawrence's then-de facto segregation.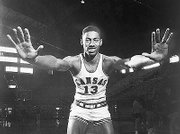 Businesses -- bars and restaurants, mostly -- that had long refused to serve blacks found it difficult to turn away Chamberlain.
"I'll tell you a story that was well-known at the time," said Leonard Monroe, a Lawrence native and a longtime friend of Chamberlain's.
"(Then-KU basketball coach) Phog Allen's son, Mitt, and Wilt went to a cafe downtown -- I can't remember which one it was -- and the owner said, 'Mr. Allen, we're not going to serve him,'" Monroe said.
"Now, Mitt Allen was a lawyer. So he says, 'Why you ol' blankety-blank, if you don't serve him, I'm going to close this blankety-blank place down," Monroe said.
"They served him," Monroe chuckled.
But Chamberlain's being served didn't mean other blacks were.
"Me? Oh, no, I couldn't eat there," said Monroe, who is black. "Wilt could, but the rest of us couldn't."
Goudsouzian argued that while Chamberlain did not single-handedly integrate Lawrence, he at least planted seeds of doubt about segregation among some of the community's leaders.
"It's complicated," Goudsouzian said. "It wasn't that he A) had no effect or B) that he integrated Lawrence. It was somewhere in between. And what he did was on more of a personal level rather than as a barrier-breaker or a symbol of a political movement."
But Chamberlain's stature, Goudsouzian said, made him a symbol.
"He was the most pre-eminent symbol of racial change in Kansas from the late 1950s and into the 1960s," Goudsouzian said. "If one man embodied the power to change racial attitudes at that time, he was it."
Chamberlain, he said, never saw himself as a Jackie Robinson-type figure.
"Jackie Robinson saw himself as sort of shouldering the hopes and dreams of a generation," he said. "Wilt did not. What he did, he did as an individual."
But that's not to say Chamberlain was aloof or oblivious to discrimination against others.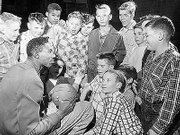 "He was just a great human being, he really was," Monroe said.
Jesse Milan, too, knew Chamberlain.
"He had passion to be Wilt Chamberlain," he said. "And he had a humble conviction for his fellow man. He was for helping the underdog, but he did things his own way."
Milan bristled at the notion of Chamberlain being credited with integrating Lawrence.
"When you go back and look at how blacks couldn't buy a house outside of certain neighborhoods, that there weren't any black clerks -- not a single bank in Lawrence had a black clerk -- that businesses all over town wouldn't serve blacks; Wilt Chamberlain didn't change any of that," said Milan, one of Lawrence public schools first black teachers.
Milan was president of the Douglas County chapter of the National Association for the Advancement of Colored People when Chamberlain was in Lawrence.
"Wilt Chamberlain was not an agent of change," Milan said. "He was an instrument of his own convictions. I don't mean that in a critical way. I'm just saying the focus shouldn't be on him when there were so many unheralded heroes who did so much more."
Folklore
Bill Tuttle, a KU American studies professor and a student of Lawrence history, read Goudsouzian's article.
"I thought it was fabulous," Tuttle said. "So much of what we know about (Chamberlain) falls into folklore and mythology. He does an outstanding job getting past all that."
Born: Aug. 21, 1936Height: 7 feet 1 inchWeight: 275 pounds
College Highlights:¢ Unanimous First Team All-America, 1957, 1958.¢ In 48 games at KU, scored 1,433 points, grabbed 877 rebounds.¢ Led KU to 1957 championship game, losing in triple overtime to North Carolina, 54-53.
Professional career: Harlem Globetrotters, 1958-59.NBA:¢ Philadelphia Warriors, 1959-62; San Francisco Warriors, 1963-64; Philadelphia 76ers, 1964-68; Los Angeles Lakers, 1968-73.¢ Rookie of the Year, 1960.¢ Most Valuable Player, 1960, 1966, 1967, 1968.¢ Championships with Philadelphia, 1967, and Los Angeles, 1972.¢ Ranks second in all-time scoring and rebounding.¢ Averaged 50.4 points per game, 1962.
While it's true that Chamberlain was no-nonsense in his individualism, Tuttle said he wondered whether he was also adept at "picking his targets."
Chamberlain, he said, was well-known for taking on Lawrence restaurants, "but the most segregated (KU) institution by far was the fraternity and sorority system. He didn't take that on."
While at KU, Chamberlain lived in the former Carruth O'Leary dormitory, which now houses university offices. He later joined Kappa Alpha Psi, an all-black fraternity.
Some of Chamberlain's target-picking, Tuttle said, may have stemmed from his relationship with then-Chancellor Franklin Murphy, a staunch advocate for racial equality.
"I think he pretty much had Murphy's approval on a lot of what he did," Tuttle said.
Leaving KU
In Lawrence, much of Chamberlain's legacy was defined by his deciding to leave KU his junior year after losing the national championship to the University of North Carolina by one point in triple overtime.
"You have to understand this was 1957, a time when it was really taboo to leave before you graduated," Goudsouzian said. "The fact that he left before winning the national title that everybody expected was seen as some kind of betrayal. His relationship with KU was very ambiguous."
Chamberlain left KU for the Harlem Globetrotters and a much-publicized $100,000 contract. After a year, he left the Globetrotters for the NBA.
Milan said he remembered Chamberlain wrestling with whether to leave KU.
"There was a lot of soul searching on his part," he said. "He suffered tremendously. He came here to be this great athlete, Wilt Chamberlain, but the other teams, they wouldn't let him."
Routinely, opposing teams used ball control to limit Chamberlain's scoring. Oklahoma State once passed the ball 160 times before taking a shot.
College basketball did not adopt the 45-second clock until 1985.
"He was a man of convictions," Milan said, "but as long he stayed at KU he met those convictions."
Much has been made of Chamberlain's Jan. 17, 1998, return to KU, during which his number was retired.
"Up until then, his relationship with KU had been less than perfect," Goudsouzian said. "But that ceremony sort of put an end to that."
Verner Newman III, who knew Chamberlain, watched the ceremony on television.
"As soon as I saw him, I knew something was wrong," Newman said. "I could see it in his eyes. I think he came back because he knew he didn't have much longer." Chamberlain died Oct. 12, 1999.
Newman and Monroe disputed the claim that the ceremony marked Chamberlain's first return to Lawrence.
"He came once after he'd been with the Globetrotters," Newman said. "He and I had drag raced once -- Wilt loved cars -- and I'd beat him. I had a '52 Packard, he had a '52 Buick.
"Anyway, we had a black pool hall and restaurant back then called the Green Gables -- it was at 514 E. 8th St.," he said. "One night, Wilt walked in and said, 'You think you can still beat me? Come outside.'
"We went outside and he had a brand new Mercedes he'd bought with his Globetrotter money," Monroe said. "I told him I still had my '52 Packard and we laughed."
Monroe said Chamberlain often visited Monroe's brother's barber shop at 532 Mich.
"Whenever he'd come back we'd all get together," Monroe said. "Wilt was the type of person who never changed. He was just the nicest guy you'd ever want to meet."
Copyright 2018 The Lawrence Journal-World. All rights reserved. This material may not be published, broadcast, rewritten or redistributed. We strive to uphold our values for every story published.