Chicago — The first time Mary McCray's granddaughters saw snow, it was Christmas in New Orleans last year. Few of the flakes stuck but, to them, it was a miracle.
The four girls, ages 8 to 12, remember the chicken, stuffed peppers and baked macaroni their grandmother made for a special dinner and the presents Santa brought. And now, despite all they've been through - wading through neck-high flood water to escape Hurricane Katrina, sleeping on the ground outside the Superdome and a long bus ride to Houston and then Chicago - they're just as excited this year.
"We're going to have another white Christmas!" Rabriel McCray, the eldest of the girls, shouts gleefully as she watches an all-out blizzard from a window of their new, subsidized apartment on Chicago's South Side. Giddy and giggling, 9-year-old Keoka McCray and 8-year-old Wilshondra make pretend snow angels on the carpeted living room floor.
Their grandmother, whom they call "mo-mo," is more subdued and looks worried.
"You know what I told you," she says, looking at a boxed-up Easy Bake oven she purchased to replace one they left behind and a TV that has a few basic video games. "This is all I can buy you."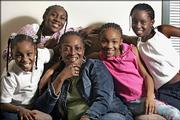 Even so, the girls stay upbeat, a testament to the resilience of some of the youngest Katrina survivors, whose families are often struggling financially. Parents and aid workers note that many storm-displaced children are helping in their own way, making modest requests when asked what they'd like Santa to bring them this year.
"When I look at their lists, I find it quite amazing. Usually kids ask for PlayStations or DVDs - these kids are asking for necessities," says Cherrell Jackson, who is coordinating a holiday gift program for about 200 Katrina families for the Heartland Alliance, a Chicago-based service organization.
So far, she's received gift donations for about half of the families - most of them filling kids' requests for clothing and winter weather gear, school supplies and books.
In Foley, Ala., children living in motels, shelters and trailers provided by the federal government also have been filling out letters to Santa, provided by retirees Bruce and Patti Walstad.
"One boy asked for a necklace for his mother and a football - that was it," Bruce Walstad says. "A 9-year-old boy asked for clothes for his 3-year-old sister - and he knew the sizes. Another just wanted 'someone to help my mom take care of us.'
"It can break your heart."
Elsewhere in Mesquite, Texas, 8-year-old Robdell Bridges and his 3-year-old sister, Jewel, recently begged their mother to stop their car outside a store so they could drop all her change in a Salvation Army collection bucket.
"They're so busy worrying about other kids not having anything," says mom Germaine Bridges.
Copyright 2018 The Associated Press. All rights reserved. This material may not be published, broadcast, rewritten or redistributed. We strive to uphold our values for every story published.