Fort Lauderdale, Fla. — A "King Tut is back and he's still black" placard drew the gaze of visitors making their way to view the acclaimed exhibit at the Museum of Art in Fort Lauderdale on Saturday.
Across from the entrance, about 25 demonstrators donning T-shirts marked with various pro-black slogans held up the placards. Waving the red, black and green African flag, at times moving to the beat of djembe drums on the sidewalk, they asked drivers in passing cars to honk in support of their goal: reminding people not to take the lighter-skinned portrait of King Tutankhamun on display as an accurate depiction.
"We're visual people, so whatever they throw at us, we're going to take it as a fact, when in reality it's just a theory," said demonstrator Asante Waa. "We're afraid of the implications that this re-creation is going to have on kids, especially on black kids."
Particularly controversial in "Tutankhamun and the Golden Age of the Pharaohs" are computer-generated busts of Tut with a skin tone that critics say make him look Caucasian.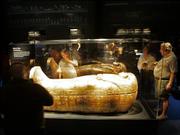 "For the Image of the Living God (as Tutankhamun represents) to be replaced with anything else but a black man's is a slap in the face," said Alicia Milligen, a Lauderhill, Fla., nurse.
Demonstrators passed out fliers with information about the Boy King who reigned over Egypt more than 2,000 years ago. They hope to educate others about King Tut by visiting schools, churches and libraries, said demonstrator Evie Iles.
"It's our history," said Iles, who viewed the exhibit and thinks the lighter skin tone may be a marketing strategy. "We encourage people to go and see the authentic artifacts and to challenge what's inauthentic."
Mary Lefkowitz, a retired classics professor and author of "Not Out of Africa: How 'Afrocentrism' Became an Excuse to Teach Myth as History," said Saturday that the demonstrators had a point.
"Ancient Egyptians from Memphis (Egypt) would have had to go to the back of the bus in Memphis, Tennessee, during the days of segregation," the Wellesley, Mass.-based author said in a telephone interview. "The Egyptians were kind of copper-colored."
Museum of Art officials say they are talking to historians with different viewpoints about planning a forum on the topic, but no date has been set.
"It's an interesting conversation that needs to be held," said Lynn Mandeville, director of community affairs.
Museum visitors said they know the ancient Egyptians were not white, but the demonstration did put the race question at the forefront of some people's minds.
Copyright 2018 The Lawrence Journal-World. All rights reserved. This material may not be published, broadcast, rewritten or redistributed. We strive to uphold our values for every story published.