New York — As sales stayed flat and attention spans short, the year in publishing unfolded like a whodunit the entire industry would love to solve: What sells, and how and where can you sell it?
Much of the story takes place online.
Technology, often declared the enemy of literacy, has been called upon to save it. With hints of optimism and anxiety, publishers are counting on the digital text and digital channels to win over a public drawn to other media.
"There has been a lot of tension among publishers about technology. But if you ask me if I'd rather have someone watching television or someone surfing the Internet. I'd prefer the Internet because it requires some form of reading," says Richard Sarnoff, president of the Random House, Inc. corporate development group.
Bookstores and paper are only part of the market. If plans succeed, books also will be read on cell phones, promoted via blogs, e-mails and even videos, and purchased online by the page. If necessary, publishers will do the selling themselves. In 2005, Random House and Simon & Schuster joined Penguin Group (USA), Scholastic, Inc. and others who offer books directly off their Web sites.
Five years after the dot.com crash, the Internet is like a prized mass of undeveloped territory. In November, Google launched its much-anticipated - and much-litigated - "Print Library," a database of books scanned from five major libraries that led both the Authors Guild and the Association of American Publishers to sue for copyright infringement.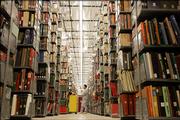 Meanwhile, Amazon.com plans to start selling books by the page next year, with Google, and perhaps Microsoft and Yahoo, expected to try the same. Random House already has declared its interest in such a system.
But setting up shop in new places doesn't guarantee more customers. The Internet so far has proved better at shifting the book market than at expanding it. The number of books sold has dropped during the past few years even as the number of books published has soared.
Deep into the Information Age, publishing remains a guessing game.
In 2005, some books were destined for success all along, such as "Harry Potter and the Half-Blood Prince" and David McCullough's "1776." Others came out of nowhere, like "On Bull----" and "Why Do Men Have Nipples?" But publicity didn't equal sales for Martha Stewart's "The Martha Rules" or help Barbara Ehrenreich's tale of white collar woes, "Bait and Switch," match the impact of her blue collar "Nickel and Dimed."
When in doubt, hand out awards; but don't depend on them. Harold Pinter's Nobel Prize had little impact on sales for the British playwright, and William T. Vollmann's National Book Award for fiction has only slightly advanced his commercial status beyond that of cult writer. The Quills Awards, people's choice prizes started this year, were no more successful at increasing sales than they were at getting the public to vote.
Nothing is certain in publishing, except for Oprah Winfrey. She made a medical advice book, "YOU," an instant smash; inspired hundreds of thousands to buy, if not read, the novels of William Faulkner; and helped Vintage Books make millions off of James Frey's addiction memoir, "A Million Little Pieces."
"She has great instincts about books, and she has a fiercely devoted viewership and readership," says Anne Messitte, vice president and publisher of Vintage. "You might be able to find a marketing director with instincts as good as hers, but you're not going to find one who also has an audience of 22 million."
Copyright 2018 The Associated Press. All rights reserved. This material may not be published, broadcast, rewritten or redistributed. We strive to uphold our values for every story published.