Fall Out Boy had every intention of following in the footsteps of the aggressive, earsplitting rock bands that they grew up listening to.
Really they did.
But a funny thing happened along the way - the more hard-core they tried to be, the more they realized it didn't fit their vibe.
"When you're playing hard-core music and you're screaming every night, it just grates on your ears, and at some point, the grass is always greener. You want to be doing something different," explains Pete Wentz, the 26-year-old bassist and lyricist for the Chicago-based quartet.
While they didn't switch to 'N Sync mode, Fall Out Boy did infuse their music with a pop sensibility. The result is a melodic pop-punk and rock mixture that has helped turn Fall Out Boy into the breakout band of the year.
"At a time when a lot of artists and bands sound alike, when you listen to their album, you feel like your feeling and hearing something a little bit different," says Rob Weiss, head of entertainment at the music network Fuse. "They are kind of special."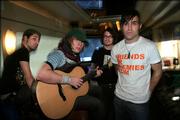 A lot of people agree. Fall Out Boy has sold more than 1 million copies of the album "From Under the Cork Tree," released earlier this year, and the band's clever but weird video for "Sugar We're Goin' Down" - which might best be described as a star-crossed lovers story involving antlers - was one of the year's most popular, helping Fall Out Boy nab a moonman at the MTV Awards. Last week, Fall Out Boy was nominated for a Grammy for best new artist, and the band plans to close out 2005 by performing at MTV's New Year's Eve bash.
The group (comprised of Wentz; 21-year-old lead singer and melody maker, Patrick Stump; guitarist Joe Trohman, 21; and drummer Andy Hurley, 24) got its start performing about four years ago. At the start, they tried to emulate the groups that influenced them.
"(We) listened to the Descendents, and Lifetime and bands like that growing up, so we wanted to play in a band like that," says Wentz, before adding with a laugh: "We were really bad."
"It was not worldly and it was not some, like, lucrative decision," Wentz continues. "It was in a friend's basement with, like, really bad equipment, really bad songs and really bad knowledge to write a song."
Stump describes their early performances at local venues as "exclusively for our own enjoyment.
"And then people started showing up at shows, and we were like, 'Uh ... all right."'
Back then, what people would have heard at early Fall Out Boy shows was a punk band trying to fit into the Chicago hard-rock scene, which Stump remembers as violent, homophobic, racist and just plain "horrible."
"We wanted out of it. It was the most negative thing in the world," Stump says.
In leaving the hard-core scene, Fall Out Boy was forced to developed its own identity after searching for it in other people's music.
"I think you feel safe in your own skin. That's the thing," says Wentz of the group's evolution. "When you're sitting there and you're writing and you're trying to imitate these bands, like, eventually, you look in the mirror .... and you say, 'OK', it's all right to be Fall Out Boy and it's all right to sing these songs."'
The band dropped the more aggressive rock stance for more pop fare, anchored by Stump's music; the emo-angle came from Wentz's pen, fueled by bitter breakups and other relationship drama.
"It's like a bunch of hard-core kids who decided they were going to write pop music," Wentz says.
The hard-core kids with the pop music sound were already developing a significant following, touring with other established acts and self-releasing their own EPs when they caught the ear of John Janick, president of the indie rock label Fueled by Ramen.
"Immediately, I thought the band was awesome," says Janick, who praised Stump's vocals and musicianship as well as Wentz's lyric skills.
Their debut album on Ramen, "Take This to Your Grave," was released in 2003. It sold slowly at first, but eventually sold an estimated 200,000 copies, according to the label. As their popularity grew, Island Def Jam took notice; eventually Island and Fueled by Ramen began working together to grow the band and entered a partnership to release their next set on Island this year.
Steve Bartels, Island's president and COO, describes the band as incredibly diverse with an exceptionally strong fan base that continues to grow.
"I think they have very, very good songs, they have a great look, they really connect - they feel like they could be someone's best friend," Bartels says. "They feel very real, they don't feel sort of contrived."
Copyright 2018 The Associated Press. All rights reserved. This material may not be published, broadcast, rewritten or redistributed. We strive to uphold our values for every story published.