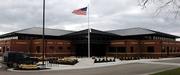 Occupants of a new medical building in northwest Lawrence are scheduled to celebrate the building's opening today.
A ribbon-cutting ceremony is set for 4:30 p.m. today at 4530 Old Oak Court. The building's occupants are Internal Medicine Group, Sigler Pharmacy and a TherapyWorks satellite location.
TherapyWorks plans to offer many of the same services it already provides from its main office at 1112 W. Sixth St.
Copyright 2018 The Lawrence Journal-World. All rights reserved. This material may not be published, broadcast, rewritten or redistributed. We strive to uphold our values for every story published.