Topeka — More than 500 veterans and supporters lined a downtown Topeka avenue Friday to show their support for the family of Sgt. Dominic Sacco and their disdain for anti-homosexual pastor Fred Phelps' protest of his funeral.
Waving flags, carrying signs and revving motorcycles, the supporters honored Sacco at the request of his widow. Phelps has protested more than 60 funerals of soldiers across the country, claiming their deaths are part of God's wrath against the United States.
Sacco, 32, of Albany, N.Y., was assigned to Company A, 1st Battalion, 13th Armor at Fort Riley as a tanker. He was killed in combat Nov. 20 in Iraq. His family lived in Topeka during his deployment. Two other soldiers from the same unit - Spc. Jerry Mills Jr., of Arkansas City, Kan., and Spc. Donald Hasse, of Wichita Falls, Texas - died Tuesday.
Brandy Sacco said Thursday she wanted people to take a stand against Phelps, and she went on the radio to encourage a strong turnout.
"I feel like my husband is supporting me," said Sacco, the mother of two children. "I feel like he's telling me this is the right thing to do."
Phelps and about 20 of his followers stood across the street from Sacco's supporters at Penwell-Gabel Mid Town Chapel. Topeka police blocked side streets and kept the two groups from contact. Vehicles honked their horns and stopped traffic in front of Phelps to block his view of the funeral home.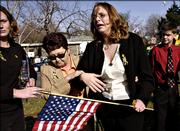 It was the first military funeral in Topeka picketed by Phelps and his Westboro Baptist Church. Phelps said he worried about the safety of his supporters at the protest.
Brandy Sacco said Phelps' protest caused her relatives distress.
"They need to give us our space," she said. "It's ridiculous."
One relative, Lance Starin, confronted Phelps' supporters, flicking a cigarette butt in their direction. Police separated the two, and later family members and a soldier from Fort Riley escorted Starin inside the chapel.
Copyright 2018 The Associated Press. All rights reserved. This material may not be published, broadcast, rewritten or redistributed. We strive to uphold our values for every story published.