Baton Rouge, La. — Gov. Kathleen Blanco agreed Friday to postpone New Orleans' Feb. 4 elections for mayor and City Council for up to eight months because of the damage and dislocation caused by Hurricane Katrina.
Blanco's decision came hours after Louisiana's top elections official recommended the delay, saying polling places have not been rebuilt and hundreds of thousands of voters remain scattered across the country.
Secretary of State Al Ater said he needs to ensure that poll workers are in place and polling places and absentee voting systems ready for an election he called "the most important in that city's life."
"The new administration, the new council, the new people that will be elected will be in charge of making decisions affecting billions and billions and billions of dollars and hundreds of thousands of lives," Ater said.
Ater said the election should be held no later than Sept. 30.
The highest profile race is for mayor. Incumbent Ray Nagin, who has gotten both criticism and praise for his handling of the Katrina disaster, has not formally announced whether he will seek re-election but is expected to do so.
Nagin released a statement Friday saying he had hoped for February elections because "voting during our regular cycle would further bring a sense of normalcy and empowerment to our citizens. However, I respect the secretary of state's decision as I am sure it is based upon his concern for holding a fair election."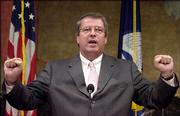 Races for City Council and sheriff are also on the ballot.
Officials expect a huge increase in the number of absentee voters because so many of the city's 273,000 registered voters have moved elsewhere.
Ater laid much of the blame for the delay on the Federal Emergency Management Agency, which he said has not provided any of the $2 million his office requested to repair voting machines damaged in the Aug. 29 storm and to upgrade New Orleans' absentee voting system.
Ater also said FEMA took until this week to respond to his October request for a list of addresses of Louisiana residents displaced by Hurricane Katrina, so they can be informed of how to vote from out of state.
"Our job would have been a lot easier if FEMA had been more forthright and more forthcoming," Ater said.
A FEMA spokeswoman did not immediately return a call for comment.
He said holding the elections on Sept. 30 would save the state $3 million, because voting is already scheduled statewide that day on two constitutional amendments.
Copyright 2018 The Associated Press. All rights reserved. This material may not be published, broadcast, rewritten or redistributed. We strive to uphold our values for every story published.