Baghdad, Iraq — U.S. and Iraqi troops launched a joint operation Wednesday in an area west of Baghdad used to rig car bombs, while American soldiers rounded up 33 suspected insurgents in a sweep of southern parts of the capital.
About 500 Iraqi troops joined 2,000 U.S. Marines, soldiers and sailors in a move to clear insurgents from an area on the eastern side of the Euphrates river near Hit, 85 miles west of Baghdad, the U.S. command said in a statement.
In Saadah, eight miles from the Syrian border, Iraqi soldiers were seen questioning a man as he knelt on a carpet in his home, while U.S. Marines led blindfolded and handcuffed detainees along a dirt road to a waiting vehicle.
The offensive came as President Bush said he hopes to shift more of the military burden onto the Iraqis as part of a strategy to draw down American forces.
In a statement, the military said the Hai Al Becker region "is suspected to be an al-Qaida in Iraq safe area and base of operations for the manufacture of vehicle car bombs, roadside bombs." It described the area as a transit point for foreign fighters and Iraqi insurgents infiltrating from Syria into Iraq.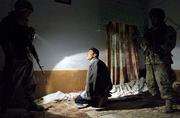 There were no reports of casualties during the first day of the operation, part of a series of sweeps through Sunni Arab towns along the Euphrates believed to be major insurgent strongholds.
Residents reached by telephone said U.S. forces warned townspeople by loudspeakers to stay in their homes for the next three days.
In Baghdad, the U.S. military said American and Iraqi forces rounded up 33 suspected insurgents in a sweep Tuesday night through southern parts of the capital. Clashes broke out late Wednesday between insurgents and Iraqi forces in the Mansour area of western Baghdad, police said.
Elsewhere, a U.S. Navy F/A-18 jet fired a missile at an insurgent position in the Baghdad area, and Air Force F-16s were in action in support of U.S. and Iraqi units northwest of the capital, the U.S. Central Command said Wednesday.
U.S. commanders have been using Iraqi forces in the recent Euphrates Valley operations, although American forces continue to bear the brunt of the fighting.
"As Iraqi forces gain experience and the political process advances, we will be able to decrease our troop level in Iraq without losing our capability to defeat the terrorists," Bush told an audience at the U.S. Naval Academy. He refused to set a timetable for a U.S. withdrawal.
In Baghdad, presidential Lt. Gen. Wafiq al-Samaraei told the U.S.-run Alhurra television that as Iraqi forces improve, the Americans would be able to draw down their troop levels.
"If America is defeated in Iraq, it will be defeated in the whole world," he said. "It is not a question of supporting America but of the interests and well-being of Iraq."
On Wednesday, the top U.S. commander in Iraq, Gen. George W. Casey Jr., joined Iraqi officials in a ceremony placing Iraqi troops in control of a major border crossing point into Syria. U.S. and Iraqi troops cleared al-Qaida-led insurgents from the area this month.
Casey said the ceremony "commemorates the restoration of Iraqi control" of the area "from the northern border with Turkey down to Jordan."
Also Wednesday, a group of influential Sunni clerics called for the release of five Westerners taken hostage last week, saying they should be granted their freedom as a humanitarian gesture.
The Association of Muslim Scholars, believed to have contacts with some Sunni insurgent groups, has helped mediate the release of other Western captives in Iraq.
The five include four aid workers from the group Christian Peacemaker Teams - Tom Fox, 54, of Clearbrook, Va.; Norman Kember, 74, of London; and James Loney, 41, and Harmeet Singh Sooden, 32, both of Canada - and German archaeologist Susanne Osthoff, 43.
Elsewhere, gunmen opened fire on a minibus early Wednesday in Baqouba, 35 miles northeast of Baghdad, killing nine construction workers and wounding two, police said.
Copyright 2018 The Associated Press. All rights reserved. This material may not be published, broadcast, rewritten or redistributed. We strive to uphold our values for every story published.