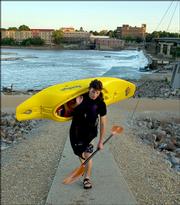 Tourists who like river towns need to add Lawrence to their list of places to see, according to a new article in National Geographic Traveler magazine.
Lawrence is one of four "dynamic" yet relatively little-known river cities featured in the September issue of the magazine, which hit Lawrence newsstands Friday.
"We were looking around the Midwest for a neat spot that hadn't been overdone," Jayne Wise, editor of the story, said, "and several people said, 'what about Law-rence, Kansas.'"
Traveler is published eight times yearly with a circulation of more than 750,000. Traveler officials said given the magazine's pass-around factor, it is seen by 5.7 million people monthly.
Former Journal-World photographer Thad Allender, now freelancing in New York City, had two pictures printed with the article.
The article touts Lawrence's "boho-hip feeling" and quotes Free State Brewery owner Chuck Magerl talking about how Lawrence is unique, in part, because it was founded as a "social crusade."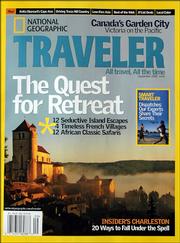 "And there's no shortage of social crusades to latch on to here these days," Magerl told the magazine.
"Traveler" also mentioned about a dozen other Lawrence businesses, ranging from the bar and night club scenes to specialty downtown retailers such as the Bay Leaf and the Phoenix Gallery.
Susan Henderson, director of marketing for the Lawrence Convention and Visitors Bureau, said the article should boost national interest in Lawrence.
"This is great coverage for Lawrence," Henderson said. "It paints Lawrence in a really positive light."
The other communities featured in the article were Wilmington, N.C., Bend, Ore., and Durango, Colo.
Copyright 2018 The Lawrence Journal-World. All rights reserved. This material may not be published, broadcast, rewritten or redistributed. We strive to uphold our values for every story published.