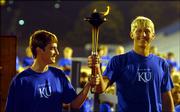 Alex Kerr isn't homesick yet, and she thinks that's a good sign.
The 18-year-old landed in Lawrence on Sunday without a friend and with little knowledge of the place that is her new home.
"I know nothing about the school at all," the New Jersey native said. "I'm completely clueless."
Kerr joined the crowd of fresh faces at Kansas University's Memorial Stadium on Monday. They gathered for Traditions Night, an annual assembly introducing songs, chants, traditions and KU lore to campus newbies.
KU is welcoming 5,500 new students, according to preliminary figures, said Diana Carlin, dean of the Graduate School and international programs. About 4,100 are freshmen, and 1,400 are transfers, she said. About 70 percent are from Kansas.
They are young people with many things to learn and experience.
"I don't know where my classes are," said Stephanie Shores, a freshman.
The students learned the Rock Chalk Chant, the KU fight song, and the Alma Mater.
English professor James Carothers gave a quick history lesson. One fun fact: Oread is not a cookie, he said, but a mountain nymph.
"These are your traditions now," Carothers told the crowd.
Some students struggled in the new role. Chris Hernandez stumbled as he attempted the synchronized clapping.
"I'm not that quick," he said.
These things take time, said his older sister Alex Hernandez, a KU alumnus who accompanied her brother.
"I swear, it takes like an entire year to learn that," she said.
Chancellor Robert Hemenway urged the students to share the traditions with others.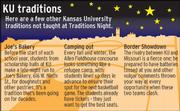 He instructed the students to pick up their cell phones, call home, and tell their mothers: "Hi Mom. I'm a Jayhawk."
For freshman Caitlin Nowlin, the call was the sixth she'd made to her mother that day. It might have confused her.
"She's like: 'OK,'" Nowlin said.
For many, like Kerr, the night marked the start of a bold adventure. Kerr visited Lawrence once before. She chose KU because it's close to Kansas City, where her father lives. She doesn't have any connections, and she knows she has to work to make friends. She's going to wing it, she said.
"It's all a learning experience," she said. "It's only going up."
Copyright 2018 The Lawrence Journal-World. All rights reserved. This material may not be published, broadcast, rewritten or redistributed. We strive to uphold our values for every story published.