OKLAHOMA CITY — There's nothing like a soothing shower after a long night on the road. Just ask "American Idol" winner Carrie Underwood.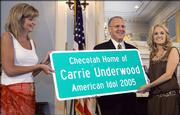 "The first thing I did this morning when we got in was take a shower," said the 22-year-old singer, whose tour bus rolled into Oklahoma early Wednesday. "We'd been on the bus all night, so I really needed one."
Underwood has been performing on the "American Idols" concert tour.
Gov. Brad Henry presented her with a replica of highway signs posted outside her hometown of Checotah. The signs read: "Checotah, Home of Carrie Underwood, American Idol 2005."
"These signs reflect the great pride that we Oklahomans have for Carrie," the governor said. "Carrie is talented, graceful, charming, hardworking and a testament to what can happen when people follow their dreams."
"It's so good to be home," said Underwood. "I know I don't deserve any of this."
Underwood, who won the "American Idol" contest in May, said she brags about her state everywhere she goes. "If we ever run into a problem anywhere, I say, 'This would not happen in Oklahoma.'"
Copyright 2018 The Lawrence Journal-World. All rights reserved. This material may not be published, broadcast, rewritten or redistributed. We strive to uphold our values for every story published.