Albuquerque, N.M. — As crude oil prices hit a new high Monday, President Bush signed a bill that will give billions in tax breaks to encourage homegrown energy production but won't quickly reduce high gasoline prices or the nation's dependence on foreign oil.
"This bill is not going to solve our energy challenges overnight," Bush said in a speech shortly before he signed the 1,724-page bill at the Sandia National Laboratories. "Most of the serious problems, such as high gasoline costs or the rising dependence on foreign oil, have developed over decades. It's going to take years of focused effort to alleviate those problems."
In the near term, the new legislation will extend daylight-saving time, give tax breaks to drivers who buy cars with fuel-efficient technologies and try to jump-start the construction of new nuclear power plants.
Supporters say that in the long run, the new law will refocus the nation's energy priorities and promote cleaner and alternative sources of energy.
Environmental groups and other opponents say the bill amounts to a gift to energy companies that does nothing new to promote renewable energy.
The bill's price tag - $12.3 billion over 10 years - is twice what the White House had first proposed. It does not include Bush's desire to open the Arctic National Wildlife Refuge to oil exploration. Drilling advocates, however, have a backup plan that is expected to unfold in mid-September.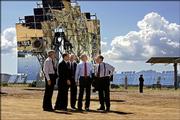 Before signing the bill, Bush toured the Energy Department's national solar thermal test facility, which was built in 1976 in response to the oil embargo and energy crisis.
For consumers, the bill would provide tax credits for buying hybrid gasoline-electric cars and making energy-conservation improvements with better windows and appliances in new and existing homes. Also, beginning in 2007, the measure extends daylight-saving time by one month to save energy, starting three weeks earlier in the spring, and adding a week in the fall.
Bush traveled from his Texas ranch to sign the bill in the home state of Republican Sen. Pete Domenici, the chairman of the Energy and Natural Resources Committee. Domenici was the driving force in ending a four-year standoff in Congress and getting the measure passed with bipartisan support last month.
Shortly before Bush signed the law, crude oil rose to a record high of more than $63 a barrel, reflecting market fears over the U.S. embassy closure in Saudi Arabia due to security threats and concerns that shutdowns of U.S. oil refineries would reduce supply.
Copyright 2018 The Associated Press. All rights reserved. This material may not be published, broadcast, rewritten or redistributed. We strive to uphold our values for every story published.