Baghdad, Iraq — Greeting each other with handshakes and embraces, some of Iraq's most powerful Shiite and Kurdish leaders gathered Sunday at a private residence in Baghdad in an effort to hammer out disputes that threaten to block completion of a national constitution by an Aug. 15 deadline.
"I am optimistic that we will achieve solutions that will be agreed upon by all," President Jalal Talabani, a leader of the transitional government elected to draft the constitution, told reporters after welcoming the leaders. "We still have a week ahead, and when you multiply the number of hours in this week, you will see we have enough time."
The meeting of the pivotal leaders, who arrived in cavalcades of sports-utility vehicles with tinted windows, came on a day when political violence claimed at least 14 Iraqi and U.S. lives. The bloodshed heightened Iraqi and U.S. concerns that a failure by the interim leaders to pull together a cohesive government and charter by the deadline could expose the country to greater unrest.
U.S. leaders have urged the Iraqi leaders to stick to a schedule that would mandate completion of the draft constitution by next week, a national vote on the charter in mid-October and new national elections by December, keeping alive U.S. goal of beginning major troop withdrawals in the spring.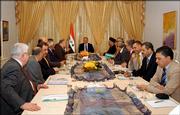 A legislative commission drafting the charter has been split on several matters, including the role of Islamic law in the constitution and the extent of autonomy that the Kurdish north and Shiite south should be allowed.
Several key leaders were absent from the meeting Sunday, including Muqtada al-Sadr, a rebellious Shiite cleric who has rejected participation in the process as long as U.S. forces remain in Iraq. Massoud Barzani, leader of Kurdish faction that has aggressively upheld Kurdish territorial claims and a right to decide on independence from Iraq, also did not attend. Talabani's aides said sandstorms had grounded Barzani's helicopter en route to Baghdad.
Sunni Arab leaders, whose disgruntled minority supplies most of the fighters for insurgency, are expected to meet separately today. All factions are slated to assemble Tuesday.
The violence Sunday included a bomb blast west of Baghdad that killed a Marine, the U.S military said. No other details were available.
Copyright 2018 The Lawrence Journal-World. All rights reserved. This material may not be published, broadcast, rewritten or redistributed. We strive to uphold our values for every story published.