Atlanta — Thousands of marchers joined icons of the civil rights movement Saturday morning in the streets of Atlanta to commemorate the 40th anniversary of the Voting Rights Act and to build support for extending protections from that bill.
"Keep hope alive: Extend the Voting Rights Act," chanted Jesse Jackson, president of the Rainbow/ PUSH Coalition and a march leader. He was joined by former Atlanta mayor Andrew Young, Rep. John Lewis, D-Ga., and Rev. Joseph Lowery, the former president of the Southern Christian Leadership Conference.
The landmark law, several sections of which are set to expire in 2007, helped transform U.S. politics and led to rising numbers of minorities being elected to govern. But some conservatives have suggested that parts of the law are no longer necessary, especially the section that requires nine states and parts of several others, mainly in the South, to seek federal approval of voting rules changes. That section also mandates that states draw minority-controlled congressional districts if black and Hispanic voters dominate certain residential areas.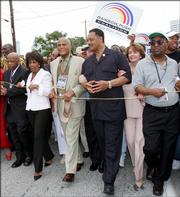 "Many people have died for us to have the right to vote. We can't lose that," said Carolyn Chester, 42, who works at an assisted-living facility in Baltimore and came to Atlanta by bus with a group sponsored by the Service Employees International Union.
The commemoration of the act was attracting attention elsewhere Saturday. Lewis, who was a key leader of the civil rights movement in the 1960s and participated in a 1965 protest in Selma, Ala., in which state troopers attacked marchers as they sought to cross the Edmund Pettus Bridge, gave the Saturday Democratic radio address on the topic.
"We were beaten, tear-gassed and trampled by horses on that bridge," Lewis said. "We paid a price, but that's what it took to bring voting rights for people of color in America. The events of 'Bloody Sunday,' as it came to be known, aroused the conscience of the nation" and led to the passage of the Voting Rights Act.
He noted that there are 81 members of Congress of African American, Latino, Asian and Native American descent, and thousands of minorities in elected offices across the country.
"Our democracy depends on protecting the right of every American citizen to vote in every election," Lewis said. "We must honor the legacy of all who died in the struggle for civil rights."
Copyright 2018 The Lawrence Journal-World. All rights reserved. This material may not be published, broadcast, rewritten or redistributed. We strive to uphold our values for every story published.