The McLouth Threshing Bee began 48 years ago because of a farmer's demonstration how to use the farming machine that separates the grain or seeds, husks and straw.
Demonstrations with steam threshers continue to be part of the annual event. But one of the biggest draws for the event these days are truck and tractor pulls.
"Anything that makes a lot of noise and has a lot of dirt is pretty popular," said Darin Edmonds, president of the McLouth Threshing Bee Assn.
The event begins today and continues through Sunday. It is held near Kansas Highways 16 and 92 in McLouth.
An antique and classic tractor pull will be at 7 tonight. But the event includes a hot rod and mini hot rod pull at 7:30 p.m. Saturday and a truck and tractor pull at 7 p.m. Sunday.
"Basically, these trucks and tractors have been souped up, and they pull sleds that weigh about 40,000 pounds," said Bill Petrie, a member of the McLouth Threshing Bee Assn. "They move really fast, and it really gets your adrenaline pumping."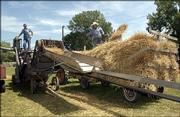 Some of the tractors can move at speeds of up to 120 mph without the sled attached, he said.
In addition to the truck and tractor pull, the event also includes a flea market and arts and crafts show.
There also will be a lawnmower race at 3:30 p.m. Saturday and a tractor pedal pull competition for children at 10 a.m. Saturday.
Organizers anticipate that 4,000 to 6,000 people will attend the McLouth Threshing Bee.
"This event is a pretty big deal to the community and it's well attended," said Jim McGrath, economic development director for Jefferson County.
Admission is $10 for all three days and children 12 and younger with an adult get in free. Limited camp sites are available for $5, but no electricity will be available. People also can bring in coolers by paying a $5 fee. Glass bottles aren't permitted on the grounds.
Copyright 2018 The Lawrence Journal-World. All rights reserved. This material may not be published, broadcast, rewritten or redistributed. We strive to uphold our values for every story published.