A new Kansas River boat ramp might lead to more canoes, kayaks and other watercraft on the Kaw, officials say.
The new ramp, in Jefferson County just across the river from the city of Lecompton, is expected to open in two weeks.
"The river is getting a lot more use," said Russell LaForce, project engineer for the Kansas Department of Wildlife and Parks. "There's just a lot more talk about it and the river is publicly owned."
LaForce said the new access point project cost $130,000 to $140,000.
The Friends of the Kaw group counts about 20 access points on the river, which is 170 miles long and stretches east from Junction City, through Lawrence, until it connects with the Missouri River. The new access point gives paddlers a place to rest between Topeka and Lawrence.
Just three rivers in the state -- the Kansas, Arkansas and Missouri --can legally be used for recreation. The rest are considered to be privately owned.
The Missouri River can be pretty hostile for canoeists, and the Arkansas River is dry most of the time in portions west of Wichita, said Roger Wolfe, regional fisheries and wildlife supervisor for the Kansas Department of Wildlife and Parks.
"So it makes sense to focus on the Kansas River at this time," he said.
The goal is to have an access point along the river every 10 to 15 miles, Wolfe said. More access points mean more opportunities to get on or off the river, making it more attractive to casual boaters.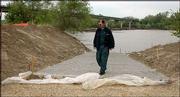 "There are a number of people who utilize it now, but they have to be pretty hard-core because of the distance between access points," Wolfe said. "This is going to make it easier for people just starting out."
The ramp will be officially dedicated at 1 p.m. June 25 with a float trip leaving from the access point near Lecompton to the access point in North Lawrence, said Laura Calwell, a riverkeeper for Friends of the Kaw.
Friends of the Kaw, an organization concerned with restoring and maintaining the river as a recreational and wildlife corridor, supports the concept.
"We're thrilled the state is putting in the new ramp near Lecompton," Calwell said. "Our mission is to protect and preserve the river and one of the best ways to do that is to get people out on the river and using it."
Copyright 2017 The Lawrence Journal-World. All rights reserved. This material may not be published, broadcast, rewritten or redistributed. We strive to uphold our values for every story published.