When Tonganoxie High School art teacher Jessica Stukus announced plans to have her students' artwork displayed in an exhibition, she received mixed reactions from her class.
Some of the budding artists were nervous, and others were eager to contribute. One student even wondered about the venue, asking, "Where, in the cafeteria?"
Stukus quickly countered that student's concern with, "The Olive Gallery in Lawrence ... a real gallery."
Eleven Tonganoxie students will have approximately 30 of their creations on display Friday through May 5 at Olive Gallery and Art Supply, 15 E. Eighth St. The weeklong show, titled "EVOO = Entries, Verging on Ostentatious," will feature a collection of pen and ink drawings, charcoals, pencil renderings, linoleum block cuts, etchings and sculptures. The opening reception for the show is 7 p.m.-9 p.m. Monday.
"We have some very talented artists in Tonganoxie," said Stukus, in her first year teaching at the high school. "Some of the smaller school districts do have pretty strong art programs. I wanted to give students here a chance to show their talents in a bigger gallery. I wanted to give them that push to show them that people do care what they're doing and do want to see it.
"There really isn't anywhere in Tonganoxie to display their works or have a large art opening. To have an official gallery, opening reception and have people from the community come to really look at your artwork is something a lot of students don't get a chance to do."
Shannon Aye, a senior, was thrilled about the chance to showcase her work in a professional gallery. She plans to have four photos, a charcoal, and a pen and ink on display.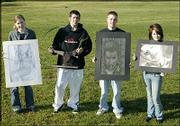 "I think it's a great opportunity to build some credentials for later in life," said Aye, who is interested in fashion design and graphic design.
Aye and her classmates will be involved in preparing their work for the gallery. They will title their works and have a say in how the art should be presented.
Other artists who will be featured are junior Ashley Hullinger, senior Garrett Forbes, senior Sandra Elliott, senior Andrew Eveland and junior Adam Reetz.
The students also are welcome to price their artwork, Stukus said.
"I told them not to go there thinking you just want to sell your work," she said. "That's not what this is about. It's not about making money."
It's more about taking satisfaction in seeing a creative pursuit come to fruition.
What: "EVOO=Entries, Verging on Ostentatious," by Tonganoxie High School art studentsWhen: Friday-May 5, reception: 7 p.m.-9 p.m. MondayWhere: Olive Gallery and Art Supply, 15 E. Eighth St.¢ Lawrence High School seniors will show work from their portfolios May 6-19 at Roy's Gallery, 1410 Kasold Drive. An opening reception will be 5 p.m.-7 p.m. May 6.¢ The annual Lawrence Public Schools Art Students Exhibition is on view through May 18 at the Lawrence Arts Center, 940 N.H.
"Ashley Hullinger has been working on extra pieces on her own time just to put in the show, doing stuff we're not even attempting in class," Stukus said. "A lot of students are working before school, after school, working on their own time and taking pride in their artwork."
The Tonganoxie exhibition is squeezed between a couple of professional shows at the gallery. Gallery owner Jill Kleinhans won't see artwork by the Tonganoxie students until it arrives today at the gallery.
"I didn't need to view the work to know that it is a good thing to support our young local artists," she said. "It is very important to promote and encourage students to make art, especially when so many schools across the country are losing their art programs. Art shows like this give students a chance to display their work to a larger audience, gain recognition and feel proud of their work."
Here's a list of Tonganoxie High School students participating in an art exhibition Friday through May 5 at Olive Gallery and Art Supply, 15 E. Eighth St., and their works:Shannon Aye"Self-Portrait," charcoal"My Boyfriend's A Dinosaur," photography"KC Thrifting," pen and ink"Fog In Hand," photography"In The City," photography"Kickstart My Heart," photographyAshley Hullinger"Downward," pencil rendering"Reaching," mixed media"Stained," mixed media"Untitled," mixed media"Tame," mixed mediaGarrett Forbes"Self-Portrait," charcoal"Skylark," linoleum block print"Lonely," pen and inkSandra Elliott"Eyeballs," sculpture"Self Portrait," pencil rendering"Self portrait," charcoalAndrew Eveland"Iron Raptor," metal sculptureAdam Reetz"Perched Atop," pen and ink"Cow Skull," pen and inkOther students participating are David Almedia, Carol Terry, Josh McGhee, David Hassinger and David Canady.
Copyright 2018 The Lawrence Journal-World. All rights reserved. This material may not be published, broadcast, rewritten or redistributed. We strive to uphold our values for every story published.