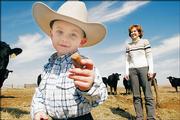 Dan and Amy Saunders, owners of Amy's Meats, have a motto: "Eat healthy and trust the people you buy from."
It's a message that has found a receptive audience in Lawrence.
"This is such a healthy town. People are very concerned with what they eat, and they're educated in the choices that they make," said Amy, 26.
"Our beef is raised without hormones. My customers say, 'I don't want that, I don't want them to grow faster.' And they're willing to pay more for me not to do that."
Since the couple launched Amy's Meats in 2003, selling a modest amount of beef at the Lawrence Farmers Market, they've been able to establish a foothold for themselves.
"In 2003, we only had three calves that we could sell (for meat). We've been pleasantly surprised, because we've grown about 10 times that now. This year, we're going to start with 24 head of cattle on feed (to sell as meat)," Amy said.
"Business has been really good. It's been incredible, actually."
The couple are currently raising 50 to 60 head of Angus cattle on 160 acres of native prairie grass in Jefferson County.
Once the calves are weaned, they're finished on a balanced ration consisting of corn, hay and a grain-based protein supplement.
The calves are on a strict vaccination program to ensure health - but no growth hormones.
"We strive for a consistent product; we try to make it so that every time you buy a steak from us, it tastes the same," Amy said.
"We focus on lean product, because we want people to eat healthy and make wise choices. We really strive for that 90 percent lean ground, and we've had very good response (from customers)."
Dan Saunders, 29, also works as a foreman on a small ranch north of Lawrence owned by Tom Swearngin Jr.
In addition to helping run Amy's Meats, Amy works for the Kansas Wildscape Foundation, based in Lawrence.
Amy is also president of the Downtown Lawrence Farmers Market. She has served in that position since November.
Dan and Amy have one child, Tucker, 3. The family lives about 10 miles north of Lawrence.
The Kansas University Small Business Development Center, 734 Vt., has been a dependable resource for Amy's Meats.
The center is a free consulting service for small businesses.
"When I went in, I needed help figuring out budgets, figuring out how to keep track of all our inventory, how to keep track of all my prices, how to best market ourselves and make the best bang for our buck," Amy said.
"They were really helpful with that aspect, helping us find who we needed to talk to. I was at a standstill with my business plan, and I had a couple of meetings with Curt (Clinkinbeard, the center's regional director)."
One selling point of Amy's Meats is that Dan and Amy make themselves available to their customers, one on one, finding out their likes and dislikes.
"They can call us, they can ask us questions. They know I work really closely with the Kansas Beef Council, and I can get resources from them. So if I don't have an answer, I'll find it out," Amy said.
"If it's something they want, I'm more than happy to carry it."
Copyright 2017 The Lawrence Journal-World. All rights reserved. This material may not be published, broadcast, rewritten or redistributed. We strive to uphold our values for every story published.