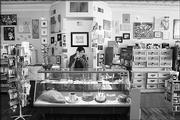 Perseverance and positive thinking have paid off for Jill Kleinhans in her first business venture as owner of the Olive Gallery and Art Supply.
"I really put my faith in this," said the 24-year-old Kleinhans, who opened the 1,000-square-foot business at 15 E. Eighth St. two years ago. "Work hard and good things happen.
"I don't think I've ever had time to be scared of anything. We're just going for it, working our butts off to do everything right."
The Olive, voted best art gallery in the Journal-World's Best of Lawrence 2004 survey, is open daily - noon-9 p.m. Monday-Saturday and noon-7 p.m. Sunday.
"It's basically my lifestyle," said Kleinhans, a 2004 Kansas University graduate with a degree in painting. "I wake up, come here, and when I leave I go home and go to sleep."
Since January, Kleinhans has been the gallery's sole owner. She and Bailey Kivett, a fellow KU art student, opened the Olive in March 2003. Kivett left the business at the first of the year to student teach and get married.
"It's just myself and our angel investor," Kleinhans said of Gene Marsh, an emergency room doctor in Halstead and friend of Kivett's family.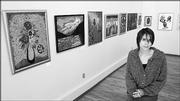 Taking over complete ownership of the Olive reinvigorated Kleinhans' commitment to the business.
"It refired everything," she said. "The excitement grew a little more. It was kind of hard to juggle things at first, but I've always had a lot of stuff going on in my life at all times."
As a former KU art student and instructor at the Lawrence Arts Center, 940 N.H., Kleinhans has students in mind when she selects items to sell.
"We really cater to students, and students of all ages," said Kleinhans, who has a "10 percent off for students" sign on her front door. "There is no definite age range. Our art supply stock has grown tremendously. We're always getting in new products."
The gallery also rotates shows monthly. The shows open the first Saturday of the month and run through the last Wednesday.
"Every show brings out a way-different crowd," Kleinhans said. "We're trying to cater to everybody who appreciates art. With art, you never know what people are going to buy."
Kleinhans said downtown Lawrence was an ideal locale to promote arts.
"Everybody is excited about art and really supports the arts here," she said.
Copyright 2018 The Lawrence Journal-World. All rights reserved. This material may not be published, broadcast, rewritten or redistributed. We strive to uphold our values for every story published.