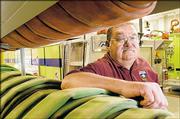 Being selected for a Lawrence Chamber of Commerce award named for former City Manager Buford M. Watson Jr. means a lot to Jim McSwain.
After all, Watson hired McSwain nearly 27 years ago to be Lawrence's fire chief.
"He was a real mentor to me," said McSwain, winner of the chamber's 2005 Buford M. Watson Jr. Public Service Award. "This was my first fire chief's job. He really guided me and made sure I was successful."
McSwain's job duties have expanded since taking over the city's fire department June 26, 1978. Since the fire department merged with the county's ambulance service in 1997, he has been chief of Lawrence-Douglas County Fire & Medical and oversees 132 employees and a $9.5 million budget. Fire & Medical responded to 8,653 emergency incidents in 2004.
"I don't think anybody that was here when I came here believed I would be here this long," said McSwain, 62. "This is a good city, and they support us real well. We have very good employees. We've been able to consistently progress as a department because of the support from the community and the city management. I had some opportunities at different points in my career to go to other departments, but for various reasons I decided not to. After a certain length of a time, you have to say, 'I'm committed to being here.'"
McSwain is committed to see the completion of city's fifth fire station being built. When he joined the Lawrence fire department, there were three stations. The fifth station will be built near 21st and Iowa streets.
"It should be completed in about a year," McSwain said.
Before arriving in Lawrence, McSwain was a firefighter and crash crewman in the Marine Corps and fire captain at the Montgomery (Ala.) Fire Department. He was an associate professor in Oklahoma State's fire-training program when he applied for the Lawrence job.
"I loved teaching, but I got to the point where I wanted to find out, 'Did the stuff I was teaching really work?'"
McSwain envisioned a job working for the fire department 50 years ago.
"I always have favored the fire service," he said. "When I was a paper boy back in Montgomery, there was a fire station on my route. My father passed away when I was 12, and I began hanging out in the station and chasing trucks to fire. When I got my motorcycle, sometimes they would chase me because I would be ahead of them."
McSwain will receive his public service award Friday at the Lawrence Chamber of Commerce's Leadership Program ceremony at Maceli's, 1031 N.H.
"Jim has been a strong leader and innovator in the provision of fire and medical services for Lawrence and Douglas County," said City Manager Mike Wildgen, who nominated McSwain for the award. "His emphasis on effective and efficient fire and medical services has led to consolidation of city and county services, consistent high insurance ratings for the community, and facility planning/construction for a growing community."
Copyright 2018 The Lawrence Journal-World. All rights reserved. This material may not be published, broadcast, rewritten or redistributed. We strive to uphold our values for every story published.