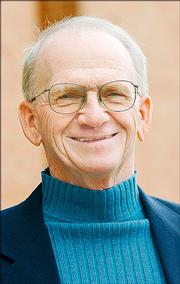 When Don "Red Dog" Gardner commits to a community project, he gives it his all and keeps on giving.
"I just get involved, get to going and get fired up," said Gardner, known primarily for forming Red Dog's Dog Days, a free workout program that averages 1,000 participants in the summer.
Gardner's community involvement runs deeper than Dog Days, which has been a fixture in Lawrence since 1984. The retired police officer's list of activities include being a board member for the Lawrence Lions Alumni Assn., Breakfast Optimist, West Meadows Townhouse Assn., Ballard Community Center and Crime Stopper board for the Kansas Crime Stopper Assn. He also has been a chaplain for Fraternal Order of Police and a board member for the St. Patrick's Day Parade committee.
For his volunteer efforts, Gardner, 66, will receive the Don Volker Leadership Award at the Lawrence Chamber of Commerce's Leadership Lawrence Program ceremony on Friday at Maceli's, 1031 N.H. The Leadership Lawrence Class of 2005 selected Gardner for the award.
The award is named for Don Volker, who helped establish the Leadership Lawrence program and was its first chairman at the time of his death in 1982. Volker award winners should have the ability to instill in other people the belief in their own ability to succeed, said Nancy Longhurst, executive director of Leadership Lawrence.
Gardner, a 1956 Lawrence High graduate and member of his alma mater's hall of fame, has won several awards for his community involvement. This list includes Optimist of the Year, Friends of Education, Outstanding Citizen of the Year, Liberty Bell Award, Sportsman of the Year, Bert Nash Volunteer of the Year and Sporting Goods Manufacturers Assn. Heroes Award for the state of Kansas.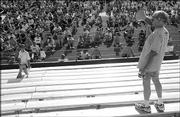 Doris Ricks, a material scheduling manager for Hallmark Cards, nominated Gardner for the Volker award. She participates in Dog Days and is a member of the Leadership Lawrence Class of 2005.
"I've never been to a close-knit community like Lawrence," said Ricks, who has lived in Lawrence for 29 years after growing up on the East Coast. "He is one person who brings folks together from various backgrounds and nationalities to one place. He makes sure he cares for everyone.
"He doesn't look down on those that aren't very athletically inclined," she said. "I have great appreciation for that."
Gardner receives assistance while organizing Dog Days.
"My wife (Beverly) and a lot of friends help keep it together," Gardner said. "I really like working with the youths. If we can help them and they get something out of it and have fun, that's all that matters."
Beverly often has to remind people what her husband's real first name is.
"There are people who still don't know my name, and my wife gets a kick out of it," he said. "Right after we got married (10 years ago) she told someone she got married to Don Gardner. He had no idea who Don Gardner was. Then my wife said 'Red Dog,' then they knew who she was talking about."
Copyright 2018 The Lawrence Journal-World. All rights reserved. This material may not be published, broadcast, rewritten or redistributed. We strive to uphold our values for every story published.