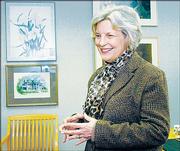 Judy Wright quickly immersed herself in various projects and causes when she arrived in Lawrence 25 years ago.
Shortly after becoming involved in the PTA at Sunset School in the early 1980s, Wright's community endeavors blossomed.
"When I moved to Lawrence, I didn't know anybody," said Wright, the director of the Chancellors Club, Kansas University's major-donation organization. "What I found out about Lawrence was that it was pretty easy to get involved. All you had to say was, 'Sure, I'll do that,' and then it takes off from there. You didn't have to be born here, didn't have to be one of founding fathers to participate."
Wright will receive the Distinguished Alumni Award Friday at the Lawrence Chamber of Commerce's Leadership Lawrence program ceremony at Maceli's, 1031 N.H. The award is presented annually by the Leadership Lawrence Advisory Board of Directors. It recognizes a Leadership Lawrence alumnus who exemplifies the spirit and goals of the program.
"She encourages people to expand their service, helps them grow both their confidence and their skills, and reinforces leadership behavior that puts the common good ahead of self-interest," said Lawrence school board member Sue Morgan, who nominated Wright for the Distinguished Alumni Award.
Morgan also said Wright's personality made her a natural leader.
"She does all of this with poise, humor, compassion and a wonderful Southern accent," Morgan said.
Wright, who grew up in Longview, Texas, has two degrees from Baylor and a doctorate in communication studies from KU, thought the accent had faded.
"It's still not there, is it?" Wright said, chuckling. "When I go back to East Texas, my friends tease me and say, 'Gee, you sound like a Yankee.'"
Wright's leadership roles include organizing Independence Days and co-chairing a school bond citizen committee. She has won the Athena Award, which recognizes women who have excelled in their field and served as mentors for women; the Don Volker Leadership Award, which honors those who have the ability to instill in other people the belief in their own ability to succeed, and the Lawrence Public Schools outstanding citizen award.
"When I've been involved in different activities, I've loved doing that and felt passionate about that," said Wright, whose husband, Jack Wright, is a KU theater and film professor.
Recently, Wright has been involved in the Fairy Godmother Fund. Barbara Reavis, who died in December from complications related to cancer, was the catalyst for the organization.
"Her whole impetus was for us to create an endowed fund for women in Douglas County for emergency need when nobody or no other thing can help," Wright said, adding that more than 700 women had given to the fund.
Wright said being involved in organizations was worthwhile.
"You get so much more back when you give," she said. "If you're not enjoying it and don't have the reciprocation, what's the point?"
Copyright 2018 The Lawrence Journal-World. All rights reserved. This material may not be published, broadcast, rewritten or redistributed. We strive to uphold our values for every story published.