Topeka — Two Fort Riley soldiers died in a training accident on the Army post in northeast Kansas when an armored personnel carrier rolled over.
The soldiers were from Company A of the 1st Engineer Battalion of the 1st Brigade, 1st Infantry Division. Five other soldiers were injured in the accident Tuesday afternoon, said post spokeswoman Sam Robinson.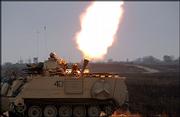 The other soldiers' injuries weren't considered life-threatening. About 100 soldiers were involved in the training on the northeast section of the post.
A family member told KSL-TV in Salt Lake City that one of the victims was Pfc. Philip Marc Christensen, 21. Family members in western New York told WGRZ-TV in Buffalo, N.Y., that the other victim was Wesley Gordon, 20, of Allegany County, N.Y.
A memorial service was scheduled for both soldiers at 10 a.m. today at the post's Morris Hill Chapel.
Robinson said the accident was being investigated by the battalion, military police and the Fort Riley Directorate of Environment and Safety.
The accident occurred as the soldiers were training in an M113 personnel carrier on the squad assault course. All seven soldiers injured or killed were inside.
The battalion, formed in 1846, is the U.S. Army's oldest engineer battalion and returned to Fort Riley in September 2004 after a year in Iraq.
Five soldiers from Company B were killed in March 2004 in Iraq when a bomb exploded beneath their M113. In all, 10 soldiers from the battalion have died in combat in Iraq.
Copyright 2018 The Associated Press. All rights reserved. This material may not be published, broadcast, rewritten or redistributed. We strive to uphold our values for every story published.