Inside a sunny room on the third floor of Central Junior High School, students gather every week to talk about sensitive subjects, including rape, peer pressure and sexual harassment.
"What's said in here has to stay in here," eighth-grader Tisha Miller said Tuesday afternoon as she stood on a chair and swiped a paint brush across the ceiling.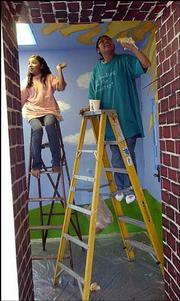 Tisha was one of dozens of Central students busy last week painting a garden-themed mural on the walls of the room used for S.U.R.G.E classes. The voluntary in-school program, which stands for Students Upholding Respect and Gender Equity, aims to help students recognize and deal with bullying and sexual violence.
The class is taught by Laurie Hart, a staff member of Ga Du Gi SafeCenter, formerly known as Rape Victim-Survivor Service. The agency has similar classes at local elementary schools, but the Central program is different because it's geared at young teens.
"In the younger schools, we can't really talk openly about sexual violence," Hart said. "In the junior highs we can talk really about what rape is."
According to the U.S. Bureau of Justice Statistics, 7 percent of girls in grades five through eight will be the victim of sexual abuse nationwide. For girls in grades nine through 12, that number rises to 12 percent.
Tisha said students learn in S.U.R.G.E. classes that "there are rape victims out there, and you can give help." The students watch movies with real-life examples of sexual harassment, do role playing and develop a "personal safety plan."
Eighth-grader Cyn-Terra Oatis, 14, who was helping paint tree limbs Tuesday, said one thing she's learned in the class is to tell people when they're in her "bubble," which is her personal space.
About 46 students, all of them eighth-graders, are enrolled in the Central program this year. The program is in its seventh year at the school and is paid for with a grant through the U.S. Centers for Disease Control.
The students painted a mural that depicts a blue sky, trees and a garden with flowers -- a design to reinforce the idea the room is a safe place to talk.
"It has a feeling," Hart said. "It really promotes what we're trying to do."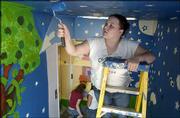 It was created with input from the kids and designed by artist Margaret Morris, education director at the Lawrence Arts Center, who donated her time.
The students incorporated their own original poems into the mural.
"It bothers me when ... people stare, people back-stab, people glare," one of the poems reads.
Another student helping paint the mural this week was Alex Harvey, 15, a sophomore at Lawrence High School who took S.U.R.G.E. classes two years ago. She said that when she took the classes, she learned skills that helped her confront a family friend she thought was being too touchy-feely with her and her younger sister. The touching wasn't anything sexual, but as S.U.R.G.E. students might say, she had to "set boundaries."
It's a success story she now shares with younger students in the program.
"He hasn't talked to us in a year and a half," Alex said.
Copyright 2017 The Lawrence Journal-World. All rights reserved. This material may not be published, broadcast, rewritten or redistributed. We strive to uphold our values for every story published.