There's no mistaking the seasons in Kansas. The state's extreme weather draws sure signs of winter, spring, summer and fall in the prairies and skies.
After almost two years of getting out in the open, observing nature, Lawrence painter and Signs of Life Gallery director James Schaefer became fascinated with the fleeting transitions BETWEEN the seasons: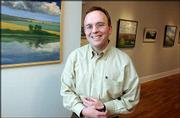 The brief duration in early fall when the grasses begin to dry and turn brittle.
The window in late autumn when the red oak leaves cling to branches in an otherwise leafless skyline.
The few days in early winter when the clouds break and the light grows warm and, for a while, it feels like summer.
"I sought out moments that were on the verge of turning into something else," Schaefer says.
And those were the moments he chose to include in "Signs and Seasons," an exhibition of landscapes, botanicals and figures on view through May 28 at Signs of Life.
The paintings are the product of nearly two years of studies Schaefer painted in the field on his days off from the gallery. The words with the figurative pieces are from the fifth chapter of the Gospel of Matthew.
"To appreciate this show, look for the details in the pieces that convey the idea of the season," writes Andrew Campbell, a graduate student in Kansas University's museum studies program, in a statement accompanying the exhibition. "The artist has sought out those moments of change that inform us of the character of the times around us. ... These points of change are built up, observed in their landscape and portrayed at the point where the season marks that change and goes rushing on."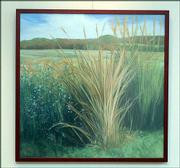 For the artist, though, the works represent more than mere reproductions of natural scenes: They're downright spiritual.
"I honestly believe that the landscape is kind of there to prepare us for an encounter with God," Schaefer says. "It's set up in such a way that you've got these huge, transcendent moments of the sky or the weather or the wind ... but then within that is this interdependent growth -- these little moments of flower to leaf to fruit to seed -- that are very personal.
"He's not just painting with this huge brush, just wiping things so you're lost in a sea of awesomeness. There's always little particular points where he meets you.
Home away from home
Although born in Chicago and raised on the East Coast, Schaefer and his twin sister spent three weeks every summer with their grandparents in northern Kansas. Their grandfather took them exploring down country roads in his pickup truck and introduced them to everyone he knew.
"He did a nice job of making us feel at home every summer," Schaefer recalls.
So when it came time for Schaefer to go to college, Kansas University seemed like an obvious choice, partly because of the art faculty, but mostly because of his attachment to the state.
"You kind of need something to get you through painting," Schaefer says. "You kind of need some sort of draw, some sort of inspiration, I guess, because there's a lot of struggle in painting."
After graduation, Schaefer taught art to children at Douglas County Christian School, now Veritas, for 4 1/2 years before taking the Signs of Life job. Schaefer's is the gallery's 11th exhibition since it opened in March 2003.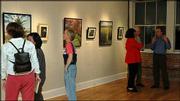 Outsider looking in?
Although he's had three solo shows at the Watergate Gallery in Washington, D.C., Schaefer hasn't shown work in his own gallery before now because he wanted to focus on promoting other artists.
And he wasn't sure how his interpretations of the Kansas landscape would be received by native Kansans.
"It's sort of a romantic thing, I think, on the East Coast to look at the Midwest. I'm sort of imbued with that a little bit because I grew up on the East Coast, but I always came back to the Midwest every summer and had family from here," Schaefer says. "So it's a little bit like being a visitor -- being in Kansas but not living in Kansas.
What: "Signs and Seasons," new paintings by James SchaeferWhen: Through May 28Where: Signs of Life Gallery, 722 Mass.Hours: 10 a.m.-5 p.m. Monday-Wednesday; 10 a.m.-10 p.m. Thursday-Saturday
"Now, being in Kansas for 12 years, it's just interesting to see if the way I speak about the landscape is more from an idealized East Coast perspective or something that Midwesterners can say, 'Oh, that's mine. That's me. That's real. That's not an ideal.'
"We live with it every day. We know that there's actually roads in these things. We know that life is not, at every moment, fixed at a beautiful transition. There's hardship, and there's a lot of drudgery."
But in the midst of these difficulties, Schaefer finds inspiration in communing with nature -- and the signs of God he finds within its seasons.
And that fits right in with the vision Signs of Life owner Clay Belcher set for the space when it opened two years ago.
"To me, so much of literature and art is nihilistic," he said at the time. "I'm hoping to offer a more hopeful, uplifting art. It's not Thomas Kinkade. But there's a reason for hope in the world. And yes, there is struggle and there is hardship, but there is also reason to believe that we grow through those things."
Copyright 2018 The Lawrence Journal-World. All rights reserved. This material may not be published, broadcast, rewritten or redistributed. We strive to uphold our values for every story published.