Washington — After winning re-election in November, President Bush declared he had earned political capital and planned to spend it. Three months into his second term, that capital has lost some of its value.
Bush got 51 percent of the votes last fall, the first presidential candidate to gain a majority since his father in 1988. But now a majority of people don't like the job he's doing -- 54 percent, according to an Associated Press-Ipsos poll released Friday. Forty-four percent approve.
Bush shrugged off the numbers, saying results vary from poll to poll.
"You can find them going up and you can find them going down," he said while flying back from Rome, where he attended Pope John Paul II's funeral. "You can pretty much find out what you want in polls is my point."
The polling news is even worse for the Republican-led Congress, with just 37 percent expressing a favorable opinion of its work, down from 41 percent in January.
The falling numbers come amid a heated debate about Social Security, with Bush relentlessly pushing his plan for personal accounts but winning few converts. Record-high gasoline prices have heightened economic jitters. And some people question GOP priorities after recent congressional intervention in the emotional case of Terri Schiavo.
Republicans in Congress and the president moved quickly during the Easter recess to approve legislation intended to prolong the life of Schiavo, the brain-damaged Florida woman who died after her feeding tube was disconnected. A solid majority disapproved of the federal intervention.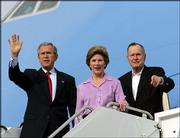 Bush has kept the Social Security campaign at the center of his agenda -- a move that could prove a political risk over time, said Ed Rollins, a Republican who was a top political adviser to President Reagan.
"If he wants to make Social Security his legacy," Rollins said, he faces the risk that "there will be no legacy."
Democrats, whose public standing is pretty close to the Republicans these days, are pondering how to capitalize on this dissatisfaction with leadership.
"I think the Democrats have to be clearer about offering alternatives, not just the critique," said Democratic pollster Celinda Lake.
Copyright 2018 The Associated Press. All rights reserved. This material may not be published, broadcast, rewritten or redistributed. We strive to uphold our values for every story published.